Russian Prime Minister Vladimir Putin has arrived in Kyiv on a delicate mission, attempting to pull Ukraine a little more firmly into Moscow's orbit.
Putin's visit comes just days after Ukrainian President Viktor Yanukovych, in his annual address to parliament, attempted to outline a compromise line for his country between the competing gravitational centers of Russia and the European Union.
On the one hand, Yanukovych said he hoped Ukraine would sign an association agreement with the European Union before the end of this year. On the other, he backed a special relationship with the Moscow-led Single Economic Space, a deepening of the customs union that includes Russia, Belarus, and Kazakhstan.

"I believe that the further development of relations with the customs union will be based on a new basic agreement about free trade and, possibly, a package agreement about cooperation under the formula 3+1," Yanukovych said. "This will give us a chance to bring together the European and Eurasian economic spaces."
Moscow has long been pushing Ukraine to join its Single Economic Space, a move which would make further integration with the European Union virtually impossible.
Putin pressed the point further in Kyiv, telling his Ukrainian counterpart, Mykola Azarov, that joining the union would "stimulate huge growth in entire sectors" of Ukraine's economy.
Michael Emerson, an analyst with the Brussels-based Center for European Policy Studies, told RFE/RL in an e-mail message that Yanukovych is pursuing a nuanced policy.
"President Yanukovych's rejection of Putin's pressure to join the Russia-Belarus-Kazakhstan Customs Union, while being open to a free-trade deal with it alongside a free-trade agreement with the EU, is clearly the right policy to choose," Emerson wrote. "Joining the customs union would rule out free trade with the EU and tie future tariffs to whatever might be agreed with the other three, two of which -- Russia and Kazakhstan -- have structurally different petro-economies."
An Offer They Can't Refuse
The same day that Yanukovych was laying out his middle course to lawmakers, however, Moscow upped the ante by making Ukraine an offer that might be hard to refuse. Russia offered $8 billion in annual natural-gas subsidies if Ukraine passes on its talks with the EU and joins its customs union. The offer came in remarks by Valery Gubov, deputy head of Russia's state-controlled Gazprom.
Timothy Ash, an analyst with the Royal Bank of Scotland, told "The Kyiv Post" that "this is a serious offer from the Russians, who seem desperate to lock Ukraine in and make sure it does not sign the free-trade agreement with the EU."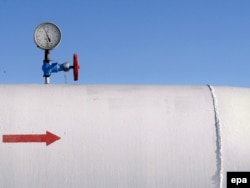 Ukraine is well aware that Russia prices its gas on more than economic reasoning.
Alexander Rahr, director of the Russian/Eurasia Program of the German Council of Foreign Relations, says Putin's visit this week is intended to step up the pressure. "Putin is going there to persuade Ukraine not to move too far in the direction of the European Union," he says, "and to think hard about the advantages that Ukraine would get if it entered the customs union and then the Single Economic Space."
The announcement that Putin would travel to Kyiv was only posted on the Russian government website on April 5, with the enigmatic notation that he will conduct "planned negotiations with the Ukrainian state on the most topical issues of bilateral cooperation, particularly such important areas as energy, trade, and economic relations."
Defending Ukraine's Interests
Kyiv, of course, is well aware that Moscow's policies on natural-gas pricing are based at least as much on politics as on economics. Russia repeatedly punished former President Viktor Yushchenko for his pro-Western orientation with crippling price hikes. Last April, on the other hand, Russia conceded a $100 per 1,000 cubic meters discount after Ukraine agreed to extend a basing agreement for Russia's Black Sea Fleet.
Nonetheless, Valeriy Muntian, Ukraine's special representative for cooperation with Russia and the Commonwealth of Independent States (CIS), told RFE/RL that Kyiv was not considering joining the customs union. "There are no talks about joining the customs union. We are only talking about signing a new agreement on free trade with CIS countries," Muntian said. "This is the first level of economic cooperation and the Foreign Ministry has endorsed it."
Ukraine's political and economic elites broadly support Yanukovych's middle course. Parliament deputy Ivan Kyrylenko, head of former Prime Minister Yulia Tymoshenko's legislative faction, told journalists on April 8 that he supported the president's 3+1 formulation in relations to the customs union if it meant that Ukraine does not "have to abandon its European vector."
What remains to be seen is whether Moscow can tolerate a policy that includes Ukraine's integration with Europe. Or will the Kremlin, as the Gazprom offer seems to indicate, insist on binding Kyiv in a relationship that would scuttle a free-trade pact with the EU?
Muntian remains hopeful. "It is too early to say definitely 'yes' or 'no.' But it would be a mistake to divide society at such a hard time by saying either we are with the European Union or we are with the CIS," he said. "After all, Ukraine has its own interests, both in cooperation with the EU and in cooperation with the CIS. We must defend our national interests on all fronts."
written Robert Coalson, based on reporting by RFE/RL's Ukrainian Service