WATCH: Gathering for the reading of the verdict in the libel case brought in Moscow by Chechen leader Ramzan Kadyrov against the founder of the Memorial Human Rights Center, Oleg Orlov. Orlov suggested that Kadyrov was ultimately responsible for everything that happens in Chechnya, including the murder of his Grozny-based colleague, Natalya Estemirova. (Video by RFE/RL's Russian Service)
MOSCOW -- Memorial Human Rights Center leader Oleg Orlov has been found not guilty in a libel case brought by Chechen Republic head Ramzan Kadyrov, RFE/RL's Russian Service reports.
The Moscow court ruled that statements Orlov made following the abduction and murder in July 2009 of his Grozny-based colleague, Natalya Estemirova, did not constitute a crime.
Orlov was quoted as saying he "honestly did not expect" the acquittal" and calling it "a joyful event."
"Honestly, I have the feeling that a miracle took place. It does not happen that often," Reuters quoted him as saying. "I thought it was a political process, which I had lost beforehand -- it was not because we were not right, we were always 100 percent certain that we were right, within the framework of the law."
Orlov said in interviews to media outlets and on his organization's website that Kadyrov was responsible for everything that happens in Chechnya, including the murder of Estemirova.
Kadyrov filed a lawsuit against Orlov, saying that he had insulted the Chechen leader.
Reading out the acquittal verdict, judge Karina Morozova said Kadyrov had "provided no evidence to the court that [Orlov] had direct intention to spread false information" in a Memorial press release, adding that "no objective findings of such intention were made in the course of the court session."
She added: "Based on the above, the court finds that the conclusion of Orlov's guilt in the statement of charges is presumptive, therefore the defendant is to be acquitted."
Second Suit
Kadyrov's first libel suit against Orlov was filed with Moscow's Tver district court as a civil case in 2009.
In October 2009, that court found Orlov partially guilty of insulting Kadyrov's "personal dignity and honor" and fined him 20,000 rubles ($705).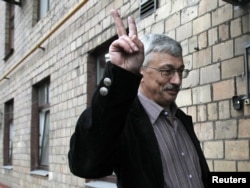 Russian rights activist Oleg Orlov arriving at court in Moscow for the verdict on June 14.
Memorial was required to pay Kadyrov the same amount in damages.
On July 6, 2010, Kadyrov filed a criminal lawsuit against Orlov on the same grounds.
Kadyrov's lawyer, Andrei Krasnenkov, asked the court to sentence Orlov to three years in jail. The prosecutor also asked for a 150,000 ruble ($5,306) fine.
Orlov and his lawyer, Genri Reznik, insisted Orlov should be acquitted.
In his final testimony in court, Orlov said he did not regret saying what he said regarding the murder of Estemirova.
"By trying to prove my innocence in this courtroom, I am in fact defending the right of Russian citizens to express their thoughts and opinions freely," he said.
Read more in Russian here
with additional Reuters reporting