MOSCOW -- A former Russian Army colonel who was convicted of murdering an 18-year-old Chechen girl in a high-profile case in 2000 has been shot dead in Moscow.
Yury Budanov was jailed for 10 years in 2003 for the abduction and murder of Elza Kungayeva during Russia's bloody campaign in the North Caucasus republic.
His early release on parole in 2009 sparked outrage among rights activists.
Investigators say that Budanov was shot four times in the head from a pistol on Komsomol Square by an unidentified assailant who then fled in a car.
The Interfax news agency reported that Moscow police have an image of the gunman constructed from CCTV footage.
Russian Investigative Committee spokesman Vladimir Markin told journalists that it was too early to speculate that the killing was a revenge attack linked with Budanov's military service in Chechnya, where blood feuds have taken place.
"Considering Budanov's background, the investigation does not rule out that his killing was carried out as a provocation," Markin said. "At this time the investigation has no evidence that any ethnic groups are behind this killing."
Markin subsequently said that the getaway vehicle was driven by a person of "Slavic appearance." The getaway car has been located and in it was a pistol equipped with a silencer, he said.
Highly Resonant Case
The former army colonel was arrested in the spring of 2000 for the kidnap and murder of 18-year-old Elza Kungayeva.
In a highly resonant case that was seen as a test of Russia's commitment to punish abuses by the Russian military in the war-torn region, Budanov was jailed and stripped of his rank of colonel and a state award for courage.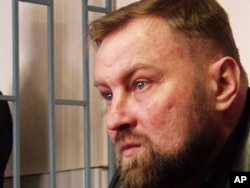 Budanov had been given a 10-year jail sentence in 2003 for killing 18-year-old Elza Kungayeva.
Budanov was subsequently released on parole early in January 2009. The decision sparked angry rallies in Chechnya and even prompted protests from the republic's pro-Moscow administration.
Just days later, Stanislav Markelov, a human rights lawyer, was gunned down as he came out of a press conference held to protest Budanov's early release.
Father Denies Involvement
A Russian ultranationalist was sentenced last month to life in prison for the murders of Markelov and journalist Anastasia Baburova, who was killed alongside the lawyer.
In his first reaction to Budanov's killing, Kungayeva's father, Visa Kungayev, denied any involvement in the ex-colonel's death.
"If I had done that, I would have said, 'Yes, I did it," he told RFE/RL's North Caucasus Service from Norway, where he now lives.
"You can sentence me to 10 years now, too. Somebody else is settling accounts over there."
Lawmakers from the ruling United Russia party issued a statement calling the killing "an attempt to ignite interethnic discord."
Speaking to RFE/RL, Aleksandr Verkhovsky, the director of the Sova Center, a Moscow-based hate-crime watchdog, said nationalist backlash would depend on how vocal nationalists were in the coming days. "Nationalists of all different colors are trying somehow to use this to their own ends," he said.
According to local reports, security has been beefed up on several main squares in central Moscow including Manege Square, where violent clashes took place last year between nationalists and riot police.
with agency reports