At least 140 people have been sentenced to short terms in jail or fined for taking part in antigovernment protests in Belarus, the country's rights activists say.
The Minsk-based rights group Vyasna and other regional organizations say some 100 people were convicted in the capital and another 40 in other cities, including Brest, Homel, and Mahileu.
Sentences included jail terms between two and 15 days, and fines of up to a million Belarusian rubles ($200) for those who escaped imprisonment.
Some 200 other cases are pending throughout the country.
The convictions come after nearly 400 people were arrested across Belarus on July 3, as citizens
took to the streets to express their discontent
with President Alyaksandr Lukashenka's policies by clapping their hands.
Photos And Videos Of The Protests From RFE/RL's Belarus Service
The protests were initiated by the Internet-based opposition group Revolution Through the Social Network, which called on people to take part in peaceful hand-clapping gatherings on July 3 to mark the country's Independence Day.
The rallies, however, were forcefully shut down by the police, who began firing tear gas and beating demonstrators. Eyewitnesses said dozens of protesters were arrested by plainclothes officers and taken away in brown prison vans.
According to Belarusian state-run television, most of the protesters faced charges of public disorder and participating in unsanctioned demonstrations.
Mikhal Karnievich, a correspondent for RFE/RL's Belarus Service, was arrested while covering the protest in the western city of Hrodna. He was later released and expects to stand trial on July 6.
Several RFE/RL freelancers and stringers were also detained by riot police while reporting, including one who had her camera lens smashed during a scuffle with the authorities.
International Condemnation
The crackdown on protesters prompted condemnations from the Organization of Security and Cooperation in Europe (OSCE) and the European Union, among others.
In a statement released on July 5, the OSCE expressed "strong concern and regret over continued violence by the Belarusian authorities against their fellow citizens who intended to exercise their civil liberties and hold peaceful public demonstrations."
"I urge the Belarusian government to release those detained, and further refrain from using violence against peaceful citizens and ensure respect for fundamental human rights and freedom," said Audronius Azubalis, the OSCE chairman-in-office.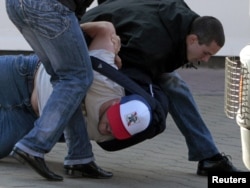 Plainclothes officers detain a man on Independence Day in Minsk.
Jerzy Buzek, the president of the European Parliament, called for the immediate and unconditional release of the arrested protesters.
Maja Kocijancic, the spokeswoman for EU foreign-policy chief Catherine Ashton, told RFE/RL that the European Union had been following developments in Belarus with "extreme concern."
"We condemn the heavy-handed and disproportionate crackdown of peaceful participants, including journalists, in the protests we've seen in Minsk and other Belarusian cities," Kocijancic said, "and we call on the Belarusian authorities to respect its citizens' rights to freely express their views, concerns, and discontent about the situation in the country."
Growing Protests
Dubbed "Europe's Last Dictator," Lukashenka has ruled the former Soviet republic with an iron fist for 17 years. He was reelected in December in an election that prompted mass protests.
Dozens of opposition activists have been imprisoned in the country, including Lukashenka's leading rival in the election Andrey Sannikau. The former diplomat has been sentenced to five years in prison.
The Revolution Through the Social Network group vowed on July 5 to continue protests "under any circumstances." It warned that soon tens of thousands would be protesting, as Belarusians were discovering their sense of identity.
In a statement, the group told Lukashenka he could not "strike fear into the entire people."
"This will not stop the peaceful acts of protest. We are not fighting for a bit of sausage and $20 more pay, but for freedom," the statement added.
WATCH: Andrzej Poczobut is greeted by supporters after his release from a courtroom in Minsk.
Meanwhile, Andrzej Poczobut, a Belarusian correspondent for the Polish daily "Gazeta Wyborcza," was given a three-year suspended jail sentence on July 5, the journalist's lawyer told RFE/RL's Belarus Service.
According to the lawyer, Poczobut was acquitted of charges of insulting the president, but was found guilty of defamation in his articles. He was freed immediately after the sentence was announced at a closed-door trial in Hrodna.
Speaking to reporters outside the courthouse, Poczobut traced his release to the sanctions that Western governments have imposed on the Lukashenka regime in response to its crackdown on protesters, civil society, and journalists since the December election.
"You know, I am absolutely happy -- absolutely happy because I had no hope of getting out today," he said. "I thought that I would be now transported back to jail, and then to one of the Belarusian prisons. That was my feeling. I understand that what has happened is a result of pressure put on the regime and this is, in my opinion, the first result of economic sanctions against the Lukashenka regime."
Poczobut had also served a two-week jail sentence for his alleged participation in the postelection protests.
compiled from RFE/RL's Belarus Service material and agency reports