British Prime Minister David Cameron has been unable to avoid the snowballing phone-hacking scandal even when he's abroad.
Speaking in South Africa on July 18 where he arrived on a trade visit, Cameron defended his government, saying it had taken "very decisive action" over allegations of wrongdoing at newspapers owned by tycoon Rupert Murdoch's British subsidiary, News International.
"We've set up a judicial inquiry that can look at all aspects of this issue," Cameron said.
"We have helped to ensure a large and properly resourced police investigation that can get to the bottom of what happened and the wrongdoing," he added. "And we've also demonstrated pretty much complete transparency in terms of media contact."
Cameron spoke after Britain's top police officer, Sir Paul Stephenson, resigned on July 17 over criticism that he hired Neil Wallis, a former editor of Murdoch's "News of the World," as an adviser.
Wallis was arrested last week. There have also been allegations that Murdoch's "News of the World" newspaper paid police for information.
Stephenson denied any wrongdoing on July 17, but said he resigned because the scandal had become a distraction to the Metropolitan Police.
"The recent example of the heroism and bravery of Met officers in chasing armed suspects involved in the shooting of one of my officers is typical, but it's in danger of being eclipsed by the ongoing debate about relationships between senior officers and the media," Stephenson said. "This can never be right."
Trading Accusations
Stephenson tried to deflect attention toward the government with a pointed barb at the prime minister, saying he did not know of any connections between Wallis and allegations of phone hacking when he hired him.
In contrast, Cameron hired another former "News of the World" editor, Andy Coulson, after he had resigned over phone-hacking allegations. Coulson was arrested and released on bail earlier this month.
Stephenson's accusation angered 10 Downing Street and forced Cameron to respond. He said the situation in the Metropolitan Police Service was "really quite different" than that of the government.
"Not least because the issues that the Metropolitan Police Service are looking at and the issues around them have had a direct bearing on public confidence into the police inquiry into the 'News of the World' and, indeed, to the police themselves," Cameron said.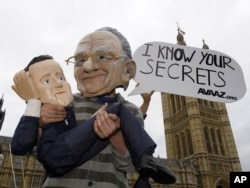 A demonstrator, wearing a Rupert Murdoch head, holds a puppet of British Prime Minister David Cameron in front of Parliament in London on July 13.
Cameron has cut his Africa trip from five days to two after facing criticism for leaving Britain during the scandal. He said he would ask Parliament, which was due to go into recess on July 19, to sit for an extra day to hear a statement from him on July 20.
The government says it did not pressure Stephenson to resign. Thanking him for his work, Cameron urged the police to do everything possible to complete the investigation.
"The Metropolitan Police Service inquiry must go wherever the evidence leads. They should investigate without fear or favor," Cameron said. "I've said that repeatedly and it's absolutely vital they feel that."
Later in the day, another senior police officer, London police's assistant commissioner, announced his resignation. John Yates was responsible for not reopening police inquiries two years ago into the alleged phone hacking.
Growing Pressure On Murdoch
Murdoch and his son and heir apparent James Murdoch -- head of European and Asian business for News Corporation, News International's U.S.-based parent company -- are scheduled to appear at Parliamentary hearings on July 19 together with former News International chief Rebekah Brooks, who was arrested and released on bail on July 17.
Brooks, who is close to Murdoch, is the highest executive to have been arrested over the scandal. She was "News of the World" editor in 2002, when the newspaper hired a private investigator to hack into the mobile phone of murdered schoolgirl Milly Dowler after she disappeared, and to delete voicemail messages.
The revelation earlier this month set off the scandal. Brooks denies knowledge of the hacking.
A growing chorus is criticizing the collusion between News International executives and politicians who have been wary of criticizing Murdoch's outsize influence in politics.
Opposition Labour Party leader Ed Miliband has called for News Corporation's British business to be broken up, saying the scandal was the result of a culture of "irresponsibility." In a speech today, he criticized the sense that the most powerful in society can do what they please because they believe they're "untouchable."
Pressure on Murdoch is also growing across the Atlantic, where the U.S. Justice Department is investigating the possibility of wrongdoing by News Corporation. The consequences of legal action in the United States would be far greater for the company than in Britain, which provides just 4 percent of its overall profit.
News Corporation has lost almost 20 percent of its share value since the scandal broke.

compiled from agency reports