U.S. President Barack Obama has called King Abdullah of Saudi Arabia and King Hamad of Bahrain to express "deep concern" about a crackdown on Shi'ite-led opposition protests in Bahrain.
White House spokesman Jay Carney said that the president "expressed his deep concern over the violence in Bahrain and stressed the need for maximum restraint."
Earlier, Secretary of State Hillary Clinton criticized the deployment of Gulf Cooperation Council troops in Bahrain to quell political unrest as the wrong response.
Soldiers and riot police used tear gas and armored vehicles today to drive out hundreds of antigovernment protesters from a central square in the capital, Manama.
At least five people were reported killed in the crackdown. Bahrain has seen weeks of protests by mainly Shi'ite demonstrators calling for political reform in the Sunni-ruled island kingdom.
Authorities imposed a curfew on central Manama and banned all public gatherings and demonstrations.
The emirate's state television channel broadcast an English-language commentary as it showed pictures of the cleared square -- covered with litter and smoldering fires -- asserting that "we can assure our citizens and residents that Bahrain's stability and security is back and is in the hands of the people we have always trusted."
The crackdown on the month-old protest camp comes a day after neighboring Gulf Arab states sent more than 1,000 troops to the island emirate to bolster its Sunni monarch.
It is unclear whether any of these Saudi-led troops participated in the crackdown on the protest, although Gulf Cooperation Council troops were seen descending on Pearl Square.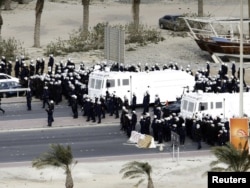 Gulf Cooperation Council forces move in to Pearl Square in Manama, on March 16.
The protesters are demanding greater democracy and an end to claimed discrimination against the island's majority Shi'ite population.
The crackdown follows deadly confrontations between security forces and protestors on March 15 that killed at least two civilians and wounded 200 others. The same day, Bahrain's king declared a three-month state of emergency and ordered his security forces -- largely made up of Sunni Muslims recruited from Pakistan, Yemen, Syria, and Jordan -- to end the unrest.
This week's violence brings the number of reported deaths since Bahrain's protests began a month ago to at least 13.
Iran's Vocal Reaction
The rapidly escalating Sunnni-Shi'ite confrontation in Bahrain and the way it is pulling in neighboring powers has dramatically raised tensions across the Persian Gulf region.
Iranian President Mahmud Ahmadinejad has called the introduction of Saudi-led troops from the Gulf states into Bahrain to help quell protests "foul and doomed."
At the same time, a leading Iraq-based Shi'ite authority called the Bahraini government crackdown "irresponsible." Basheer al-Najafi, who is one of the world's four top Shi'ite authorities, also said the violence must stop immediately.
Similarly, the Lebanese Shi'ite group Hizballah warned on March 15 that "military intervention and the use of force against a peaceful popular movement will not lead to a solution."
As the Sunni-Shi'te confrontation grows in Bahrain, it increasingly looks like an extension of the region's rivalries between Sunni Gulf Arab governments and Iran.
Gulf rulers, particularly Saudi Arabia, fear that the collapse of Bahrain's Sunni monarchy could embolden further revolts across the region and embolden the Saudi Shi'ite minority. Saudi Arabia's indigenous Shi'ite minority is concentrated in the country's oil-producing Eastern Province, which is connected to Bahrain by a causeway.
Big Picture
Saudi Arabia's Sunni monarchy frequently acts in concert with Bahrain's Al Khalifa family, which has ruled the island for 200 years. But the dispatching of more than 1,000 troops from several Gulf nations to Bahrain is the first time any regional nations have acted together to try to quash one of the revolts now sweeping across the Arab world.
The foreign troops come from the six-nation Gulf Cooperation Council's Peninsula Shield Force. The bloc is made up of Saudi Arabia, Oman, Kuwait, Bahrain, Qatar, and the United Arab Emirates. Among them only Bahrain has a majority indigenous Shi'ite population.
As the Bahrain crisis escalates, it increasingly risks pulling in the United States, which has a major naval base in Bahrain. The island is home to the U.S. Navy's Fifth Fleet which is responsible for naval forces in the Persian Gulf, Red Sea, Arabian Sea, and coast of East Africa.
The UN, United States and other countries have called for restraint and a political resolution to the crisis. But so far, there is little sign that the Bahraini government and protestors can find a common ground for negotiation.
Many of the protesters, inspired by the recent uprisings in Tunisia and Egypt, say they want an elected parliament with full executive powers. However, others are demanding the departure of Bahrain's monarch and perhaps the entire ruling family. In both cases, meeting the protesters's demands would lead to a Shi'ite-controlled popular government in Bahrain.
In response to the protests, Bahrain's king and head of state Hamad ibn Isa al-Khalifa reshuffled his cabinet on February 26, replacing four ministers. But he refused one of the protesters' central demands, which was to dismiss Bahrain's prime minister of 40 years, Sheikh Khalifah ibn Salman al-Khalifah.
compiled from agency reports
Liveblog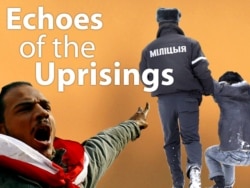 Tracking events and ideas convulsing the Arab world and with ripples around the globe, including RFE/RL's broadcast region.
Click here