WATCH: Supporters and friends of the 72-year-old Divjak welcomed him back after his arrival in Sarajevo from nearly five months awaiting an extradition ruling in Austria. (Video by RFE/RL's Balkan Service)
By RFE/RL
SARAJEVO -- The retired Serbian-born Bosnian army general at the center of a high-profile extradition battle has arrived in Sarajevo following Austrian authorities' dismissal of a Serbian handover request, RFE/RL's Balkan Service reports.
Jovan Divjak, who was initially detained at Vienna's airport on March 3, helped mostly Muslim Bosnian forces battle Serb forces in the bloody war of 1992-95.
Divjak, an ethnic Serb, is considered a hero in Bosnia for his role in that country's battle for territorial integrity after the breakup of Yugoslavia. He defected from what had been the Yugoslav Peoples Army after its bombing campaign against Sarajevo began early in the war.
But he is among a handful of Bosnian officials accused by Serbia of atrocities in connection with an attack on a Yugoslav army convoy that was being escorted away from Sarajevo by UN troops.
After nearly five months in limbo, the 74-year-old Divjak told RFE/RL before he boarded the plane for Sarajevo that it was "time to rejoice."
In Bosnia, he was greeted by dozens of friends and supporters at the airport before heading to a downtown celebration to help turn the page on the Austrian ordeal.
"For five months, I had the full support of the citizens of Sarajevo, mostly from the youth, from my association, and from others," said Divjak, who heads the Education Builds Bosnia-Herzegovina (Obrazovanje Gradi BiH) foundation.
The Austrian judge who rejected Serbia's extradition request reasoned that Divjak was unlikely to receive a fair trial and noted that a lack of evidentiary laws between Bosnia and Serbia over alleged war crimes made any establishment of the relevant facts difficult. He also cited Austrian national interests.
"The prosecution office has two weeks time to appeal, but it is very important to state that Mr. Divjak is a free man," Divjak's lawyer, Richard Soyer, told RFE/RL's Balkan Service from Vienna. "At the moment, there are no restrictions for him. He can go wherever he wants."
Divjak's arrest in March sparked angry protests in Vienna and in the Bosnian capital, Sarajevo.
"By the decision of the Austrian court, Serbia's request has been rejected, therefore there will be no extradition to Serbia and we have a positive decision," Bosnian Ambassador Haris Hrle told RFE/RL after the court's July 29 decision. "All restrictions regarding his stay in Austria are to be lifted and General Divjak has the right to leave the country immediately. During the day, we expect the bail to be returned."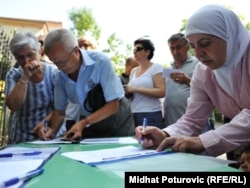 Bosnian intellectuals and artists attended a petition drive in support of Jovan Divjak in front of the Austrian Embassy in Sarajevo on July 13.
The circumstances of the case are disputed, and the UN war crimes tribunal in The Hague has thrown out the case for lack of evidence. A British court last year released another wartime Bosnian leader named in the same Serbian warrant, Ejup Ganic.
"It's good that this case has been closed; it's good that Jovan Divjak is coming to Sarajevo," Sarajevo University professor Zdravko Grebo told RFE/RL. "But this does not relieve anyone of responsibility for the mistakes that were committed, because maybe Jovan Divjak is not the last man from that list of 19 people who could be arrested sometime in the future."
Stjepan Kljujic, a former member of the Bosnian Presidency during the war and another of the 19 individuals sought by Serbia over the so-called Dobrovoljacka case, expressed anger that Belgrade continues to press for those arrests.
"I proudly spent 1,425 days in the besieged city of Sarajevo and I defied fascism. But now I have been imprisoned again for four years and I feel very badly because my homeland betrayed me," Kljujic said. "Therefore, welcome home, Jovo, but that should be an additional motivation for Bosnia to once and for all say 'no' to Serbia for its behavior, which is not in line with international law."
written by Andy Heil in Prague based on reporting by RFE/RL Balkan Service correspondents Tina Jelin and Zvjezdan Zivkovic