BELGRADE -- Tens of thousands of nationalist supporters in Serbia rallied on February 5 against their pro-Western government, demanding early parliamentary elections amid a deepening economic crisis in the Balkan country.
With some 10,000 police officers deployed to prevent violence, the former allies of the late Slobodan Milosevic protested in front of the parliament in Belgrade. They blamed President Boris Tadic for the country's rising poverty and unemployment and for a falling standard of living. They also accused the government of corruption.
Described as the biggest antigovernment rally in years, the protesters showcased the opposition's strength ahead of scheduled 2012 parliamentary elections.
Some protesters traveled by bus from cities across Serbia, bringing banners with them with messages like: "Democratic Party, Time To Go!" and "We Are Hungry!"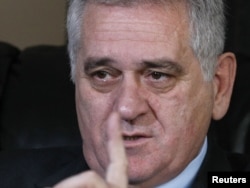 Tomislav Nikolic
The rally was organized by the leader of the country's largest opposition party -- Tomislav Nikolic of the Serbian Progressive Party.
'We Will Save Serbia'
The crowd -- estimated by police at about 55,000 -- was told by opposition leaders that they would "blockade" the capital, Belgrade, if their demands to move parliamentary elections forward from 2012 are not met within the next two months.
"Give us the two months that we have given them. If bullies, as always, do not choose to listen, then in April you'll find me here sitting on the street," he said. "I'll bring Styrofoam so I don't get cold. And you take Styrofoam, too, if you want to join me."
As the crowd chanted "Thieves! Thieves!" and "Changes! Changes!" Nikolic added, "We will save Serbia when we take over. No one can stop us."
Serbia is struggling to recover from the 2009 recession. It had modest growth of 1.5 percent in 2010 and expects 3 percent growth during 2011.
SNS deputy leader Aleksandar Vucic called on citizens to stage another rally in two months if their demands are not met and to protest until both the Serbian government and President Tadic step down.
"We do not seek to remove them from power but only to call elections, and to replace them eventually," Vucic said. "If these demands are not heard, then in two months we will invite you [to protest] again. And in that case, we will not leave the streets of Belgrade until they leave."
The chairman of the New Serbia party, Velimir Ilic, told protester the rally was the "last warning" to the government. He said demonstrators do not want to carry out regime change as protesters are trying to do in Egypt and Tunisia. He said they just want early elections.
'We Want To Make Money'
Ilic said Serbia wants a new leader and he endorsed Nikolic.
"You are proof that Serbia does not want them anymore. Do you want Mladjan Dinkic in the government? Is Mirko Cvetkovic your prime minister? He is only a courier who is carrying the EU questionnaire," Ilic said. "We do not want an EU questionnaire. We want to do work and to make money!"
Milosevic, who died in custody in The Hague in 2006 before a verdict was reached in a genocide trial against him, had been ousted in 2000 after massive street protests in Belgrade led by officials from the current Serbian government.
"This is the start of a counterrevolution," said Milos Joksimovic, a 35-year-old mechanical engineer who took part in the anti-Milosevic demonstrations at the same spot in the capital in October 2000. He spoke as he watched the rally from a distance.
"They are becoming very strong, and it is scary," he said.
written by Abubakar Siddique, with contributions from Slobodan Kostic from RFE/RL's Balkan Service and agency reports