Serbian President Boris Tadic has paid a rare official visit to Bosnia-Herzegovina in a bid to improve ties between Belgrade and Sarajevo that were severely damaged by the 1992-95 war.
Tadic, a native of Sarajevo, frequently visits Bosnia-Herzegovina's Serbian entity, but this is only his second official trip to the capital, Sarajevo, in his capacity as Serbia's president.
Tadic's meetings with Bosnia's three-member Presidency, as well as with lawmakers from both chambers of parliament, focused on improving bilateral ties and regional cooperation.
Bosnia's Presidency is made up of acting President Nebosja Radmanovic (Bosnian Serb), Bakir Izetbegovic (Bosniak), and Zeljko Komsic (Bosnian Croat).
Relationships between the two former Yugoslav countries were scarred by the Bosnian war of the 1990s, during which Belgrade provided political and military support to Bosnia's Serbs.
Hard-liners in Republika Srpska, the country's Serbian entity, have advocated their own institutions outside from Sarajevo's control and have even talked of secession.
Tadic has been criticized for his support for Bosnian Serb leader Milorad Dodik, who has repeatedly evoked the possibility of breaking away from Sarajevo.
But before reporters on July 6, Tadic called Bosnia-Herzegovina "sovereign and independent."
"Serbia will never cross the red line that is defined by the international law, by the Dayton peace agreement, and by practice of good relations between neighboring countries, by meddling into affairs of neighboring countries -- sovereign and independent countries," he said. "We respect Bosnia-Herzegovina not only by words, but by political practice and our every gesture."
Tadic's visit comes nearly two months after the landmark arrest of Ratko Mladic by Serbian authorities.
The fugitive Bosnian Serb wartime general now faces genocide, war crimes, and other charges at the UN-backed International Criminal Tribunal for the former Yugoslavia (ICTY) in The Hague, Netherlands.
Mladic is accused of orchestrating the 1992-95 siege of Sarajevo and the 1995 Srebrenica massacre, the largest massacre in Europe since World War II.
An estimated 10,000 people were killed or disappeared during the siege of Sarajevo, and some 8,000 mainly Muslim men and boys were killed by Bosnian Serb troops during the Srebrenica massacre.
Bosnia had long demanded that Serbia arrest Mladic, who was on the run for nearly 16 years.
Tadic said he was proud to be hated by the Serbian ultranationalists who have decried Mladic's arrest if doing so helps interethnic reconciliation in the Balkans.
"I would be very pleased if at the end of my political career many say that I am a traitor, as long as everyone lives well -- Serbs, Croats, and Bosniaks -- and that we have built highways connecting all our countries," he said.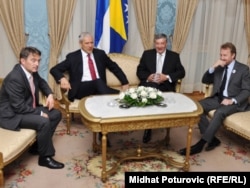 Tadic meets with Bosnia's tripartite Presidency: Zeljko Komsic (left), Nebojsa Radmanovic, and Bakir Izetbegovic(right) in Sarajevo on July 6.
Lingering Issues
Despite Mladic's arrest, a number of unresolved issues still remain between Belgrade and Sarajevo that somewhat color bilateral relations.
A Bosnian wartime army general, Jovo Divjak, was detained in Austria in March based on a Serbian arrest warrant. Belgrade accuses him of war crimes. Divjak, however, is considered a war hero by many in Bosnia.
Divjak, a Bosnian Serb, served as a Bosnian general during the Sarajevo siege.
Ilija Jurisic, a Bosnian Croat former police officer who is also viewed by many Bosnians as a war hero, was convicted last year to 12 years in prison in Belgrade after a court found him guilty of war crimes. But Jurisic was later pardoned by a higher court and his case is currently under review.
Tadic on July 6 also pledged that Serbia would continue its hunt for Goran Hadzic, the Croatian Serb wartime political leader who is charged with crimes against humanity committed during Croatia's war of independence from Yugoslavia in the early 1990s.
The capture of Mladic, as well as of Hadzic, have been considered key to furthering the country's chances for integration into the European Union -- something that many in Bosnia are also striving for.
Speaking alongside Tadic, the Serbian member of Bosnia's tripartite Presidency, Nebojsa Radmanovic, said both countries could find common ground in that area.
"Our conclusion is to make huge steps towards the European Union as soon as possible, but it does not depend only on [Bosnia and Serbia]. It depends on the European Union as well," he said.
based on RFE/RL's Balkan Service and agency reports