Summit Seeks To Deal With Eurozone Crisis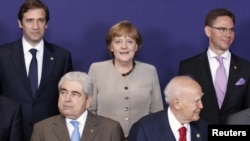 A two-day European Union summit has opened in Brussels to discuss the future of the eurozone.

Talks are expected to focus on whether to pool EU debt and issue joint eurobonds.

Analysts say such a move could bring down the borrowing costs for the weaker, debt-burdened eurozone countries by including the strongest economies like Germany as guarantors.

French President Francois Hollande is a leading backer of the idea, but Germany's Chancellor Angela Merkel is opposed.

Hollande said, as he arrived for the summit, that "France has been ready to go further in integration, but accompanied by solidarity at every step."

The leaders of the two biggest economies in the eurozone met on the eve of the summit, with Merkel repeating her objections to the proposal, saying even Europe's strongest economy must not be overburdened.

Germany is calling for more political integration before further economic integration is undertaken.

Arriving for the summit, Merkel said that "growth and employment" will be the focus of the debate.

"Today, the package for growth and employment is at the center of the debate. We have been working on this throughout all the summits this year -- in January, in March, and the current one," she said. "Today it is fully developed, so that we can see it off."

The summit is being held as the eurozone debt crisis continues to deepen, with investors nervous about the viability of the euro amid concerns that debt-hobbled Greece could quit the currency union.

Cyprus and Spain in June joined earlier victims of the debt crisis -- Greece, Portugal, and Spain -- in requesting financial aid from eurozone partners.

In comments ahead of their meeting late on June 28, Merkel and Hollande made some concilitary remarks emphasizing European unity.

Merkel spoke of the need for "more Europe."

"We will then have to consider the political future of European economic and monetary union," Merkel said. "I have said, we need more Europe, we need a Europe that functions -- markets are expecting that -- and we need a Europe whose members help each other out."

Hollande said France was ready to consider "as much integration as is necessary."

"We are conscious of the measures that we have to take for financial stability and we want, both of us, to deepen economic and monetary -- and soon political -- union to arrive at a point of integration and solidarity," Hollande said. "As much integration as it is necessary, and as much solidarity as it is possible. This is our spirit at a time when many people are looking at Europe, at a time when it must affirm its coherence, its strength, its unity and its solidarity."

There was no sign, however, that the two sides have moved any closer to resolving their differences over the main sticking point of the eurobonds.

On the eve of the summit, Spain's Prime Minister Mariano Rajoy warned that Spain -- the fourth-biggest economy in the 17-nation eurozone -- cannot continue to finance itself at the high rates it currently pays on the markets.

Ahead of the summit, top EU officials have unveiled long-term proposals to strengthen the eurozone, including joint debt liability and greater central EU powers over national budgets.

But Merkel said on June 27 that there was no quick fix to the debt crisis. Speaking in the German parliament, Merkel said it was critical to "not make promises that we can't keep."


Based on reporting by Reuters, AP, and AFP