Syrian Opposition Posts Videos Of Russian Air Strike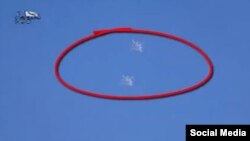 Syrian opposition sources are claiming that two Russian military jets have carried out a raid on the opposition stronghold of Talbisah, causing tens of casualties, including to children and infants, and heavy damage.
Dozens of videos have appeared on social media showing the jets that allegedly carried out the raid and the consequences of the bombing, although it is not possible to determine conclusively whether the warplanes were Russian or Syrian. The Syrian military primarily uses Russian-made aircraft.
The raid on Talbisah -- north of a former hotbed of antigovernment protest that was brutally brought to heel by Syrian government forces, Homs -- came the same day that Russia's parliament unanimously approved the use of military force abroad, and as Western news agencies were citing U.S. officials as saying Moscow had informed them that Russia had carried out its first air strike in Syria near the city of Homs.
Opposition militants who are fighting against the government of Syrian President Bashar al-Assad claim in some of the videos that the bombing was carried out by two Russian jets, sometimes identified as Su-24 ground-assault aircraft:
Some of the videos contain highly graphic depictions of wounded children and infants.
In one video, a major with the anti-Assad Free Syrian Army claims his troops were bombed by Russian jets near Hama, which is another opposition stronghold about 200 kilometers north of the capital, Damascus:
Another upload from September 30 contains scratchy and difficult-to-interpret audio that Syrian oppositionists claim are communications from Russian pilots:
The opposition Homs Media Center posted a list of 22 purported casualties of the attack. The list says the people were "victims" of the attack but does not specify whether they were killed or injured.
Another video purports to show a Russian air strike on the nearby town of Al-Lataminah:
Talbisah is a stronghold of anti-Assad militants and the Free Syrian Army. In April 2011, it was one of the first Syrian cities to rise up against Assad, and it has since repeatedly been the target of assaults by the Syrian Army and government security forces.
The opposition activists say there is no IS presence in Talbisah or any of the other nearby areas -- Al-Lataminah, Zaafrana, Tal Wassit -- that have been mentioned in reports of possible strikes.
Russian officials have said the purpose of their military presence in Syria is to help Damascus fight against the extremist militant group Islamic State (IS, also known as ISIL).
"The military purpose of this operation is exclusively limited to providing support for the Syrian government forces in their fight against ISIL," Kremlin chief of staff Sergei Ivanov told journalists in Moscow.
In his speech to the UN General Assembly on September 28, Russian President Vladimir Putin, however, blurred the line between IS extremists and the Syrian opposition, citing reports about "the transfer of weapons by the so-called moderate [Syrian] opposition to terrorists."
U.S. officials see Assad as an obstacle to a resolution of the conflict in Syria and claim Russia's intervention is aimed at propping up Assad in his struggle against domestic opposition.
Earlier this month, the Bellingcat investigative journalism NGO documented the presence of four Russian Su-30 jet fighters and 12 other unidentified warplanes at the Bassel Al-Assad International Airport at the Assad stronghold of Latakia, where Russia has long maintained a major eavesdropping post.