Rights Watchdogs Urge Security Council Action On Syria Uprising Anniversary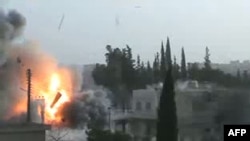 A coalition of 200 human rights watchdogs and aid groups has urged Russia and China to support a resolution in the United Nations Security Council that would bring international pressure on the Syrian regime to end the year-old bloodshed in the country.

The joint statement issued on March 15, the first anniversary of the start of the uprising against President Bashar al-Assad's regime, was signed by groups including Human Rights Watch, Christian Aid, and the International Federation of Human Rights.

Russia, a longtime Syrian ally and arms supplier, and China have blocked several Western and Arab League-backed efforts to approve a Security Council resolution on the Syrian violence.

The statement from the rights groups calls on the regime to immediately curb "the indiscriminate shelling of civilian neighborhoods and other violations of international law, stop arbitrary arrests and torture and grant urgent access to humanitarian workers, journalists and human rights monitors."

The Syrian government has blamed "armed terrorist groups" for the unrest.

Syrian government troops were reported on March 15 to be continuing artillery bombardments of opposition strongholds in the northern province of Idlib.

Witnesses quoted by activist groups say at least 40 people were killed since March 14 across the country.

Mass protests against the regime were reported on March 15 in the southern province of Deraa.

'Revolution' vs. 'International Conspiracy'

In Homs, an opposition stronghold that has been subjected to a sustained government crackdown, activist Abu Omar al-Homsi told journalists that Syrians will continue fighting for freedom.

"'It is a revolution in every meaning of the word, a revolution against oppression and tyranny and corruption, and as activists all we ask for from the Syrian people is to remain steadfast and to continue to go out on to the streets and to call for freedom and overthrowing this tyrant," Homsi said. "We ask for nothing more.''

Hitting back at its critics, the Syrian regime on March 15 organized pro-government rallies in Damascus, Aleppo, Latakia, and other cities. Participants at these rallies protested what they said was an international conspiracy targeting Syria.

The United Nations estimates that some 8,000 people have been killed over the past year, and more than 230,000 Syrians have been displaced by the violence.

Turkey said on March 15 some 1,000 refugees had crossed into Turkey from Syria in the last 24 hours, bringing the total of registered Syrian refugees in the country to some 14,000.

Assad E-Mails Published

And in another sign of the regime's increasing isolation, Saudi Arabia has closed its embassy in Damascus and pulled out its diplomats and staff.

Saudi Arabia has become one of the leading Arab supporters of the Syrian rebels, and has appealed for international efforts to study ways to provide aid and weapons to anti-Assad forces.

Also on March 15, a British newspaper published what it said were thousands of private e-mails authored by Syria's president and first lady.

"The Guardian" says it obtained the e-mails from Syrian opposition sources. The report says the e-mails show that President Assad received advice from his ally Iran on how to handle the uprising.

According to the report, Assad also allegedly joked about his promised reforms, calling them "rubbish laws of parties, elections, media."

The report says the e-mails also indicate that the president was able to circumvent U.S. sanctions and purchase pop songs on the iTunes service.

The Syrian government has made no comment, and it remains unclear whether the e-mails are genuine.


With dpa, Reuters, AP, and Reuters reporting