Two young Syrians, brothers 12 years apart, were among a throng of demonstrators approaching the government-held southern city of Daraa in late April when out of nowhere, gunfire rang out.
Today, an eternity divides them.
The two were part of a group trying to deliver supplies to the occupied city, then the epicenter of Syria's antigovernment uprising, days after it was stormed by the military.
Thirty-one-year-old Abdullah -- he doesn't want us to use his real name -- describes what took place as they approached.
"We were going to Daraa, to protest there in Daraa. [The authorities] had forbidden everyone from going inside Daraa, even the milk, the food, everything," he says. "So we went there, we carried with us bread, we carried children's milk, and we went there. ... There was an ambush from the military forces itself. They opened fire on us. Opened fire on us, without any announcement, without any warning, nothing. Just opened fire."
Abdullah, a farmer, credits his survival to the protection of nature. He describes how he and his father fled to a grove of olive trees for cover.
"We escaped running -- how, if they opened fire for 32,000 people, do you think they can kill everyone? Some of us managed to escape. Running, by running, through the trees. In front of this [military] accommodation there was trees. We went running inside the trees and after that we went about six kilometers, running toward our village."
At least 16 people died in the attack, and Abdullah says scores more were killed in prisons after their arrest.
Among them, he says, was his 19-year-old brother.
Graphic Injuries
More than two weeks later, the family received his mutilated body. Abdullah says a doctor listed his brother's injuries in graphic detail: rape by electrocution, a broken neck, drill marks into the head and hands, and an electrocuted finger.
Abdullah is an active participant in a mass protest movement demanding the resignation of President Bashar al-Assad.
Daraa, near the border with Jordan, is where protests first broke out in mid-March, galvanized by the ousting of Egyptian President Hosni Mubarak the previous month.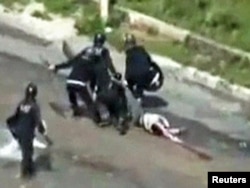 A still image from amateur video posted on a social media website purportedly shows security forces dragging the body of an antigovernment protester along a street in Daraa.
With foreign media mostly barred from Syria, the accounts of people like Abdullah are difficult to verify. But his is consistent with witness and activist accounts of a brutal crackdown on dissent unleashed by the regime. Rights activists say more than 1,400 Syrians have been killed and some 10,000 arrested since the unrest began.
The regime has simultaneously pushed its own version of events that has variously blamed the violence on armed groups and saboteurs.
Today there is increasing pressure on Assad to end violence against protesters; several European nations have drafted a UN Security Council resolution requiring key reforms.
On June 20, Assad announced a road map for the future of Syria, including the formation of a "national dialogue" committee to draft a new election law. He did not, however, address calls for his resignation.
Abdullah is dismissive of the embattled president's speech.
"We are protesting. We are against what [Assad] said in his speech today, the president. ... He wants to say everything is done by criminals, and not by people," Abdullah says. "And the killing, for the military forces, they are killing the criminals. But actually, they are killing their own people."
'People Are Scared'
Activists in recent weeks have warned of a refugee crisis as protests spread to the country's north, with nearly 11,000 people streaming into neighboring Turkey to escape the violence.
That has shifted media attention away from cities like Daraa, but Abdullah says that even though food supplies have been restored in the impoverished city, life is far from normal.
"People are scared, because each day they [the military] are entering a village from Daraa, entering an area from Daraa, just to take prisoners, to capture prisoners," he says. "And after they capture them, they bought them guns, they bought them weapons, everything, and they say, 'This is a criminal gang.'"
Abdullah has two small children and a young wife in the Daraa region. He says every time he goes to a protest he says goodbye to them, not knowing if he will ever see them again. But he refuses to leave his native city.
"If we die," he says, "we will die standing. The issue is if we stop protesting, they will kill us just like that, one by one. We want the system down."
In a scene that is likely to resonate with the families of protesters active in Syria and throughout the Arab world, Abdullah recalls: "My brother, when he went to the last protest, he kissed my mother's hand. And he told me, 'Just don't be angry for me, I'm going to the protest.' She told him, 'And God, may God help you.'"