Protesters in Syria are planning funerals for eight people in Douma, near Damascus, where police opened fire on a
pro-reform demonstration on April 1
.
The authorities deny that security forces are responsible for the deaths, blaming them instead on unnamed armed groups that they claim fired on demonstrators and police alike.
Meanwhile, police carried out predawn raids today around the southern city of Daraa, the epicenter of the country's growing national protest movement.
Thousands of people marched against the government in Daraa on April 1.
The United States on April 1 applauded what it called "the courage and dignity" of the pro-reform demonstrators.
More than 70 people have died during the past two weeks of protests in Syria.
compiled from agency reports
Liveblog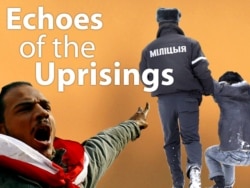 Tracking events and ideas convulsing the Arab world and with ripples around the globe, including RFE/RL's broadcast region.
Click here