Opposition activists in Syria say they fear a brutal onslaught in the northern town of Jisr al-Shughour after Syrian state television reported that 120 security troops were killed there on June 6 by "armed gangs" -- a phrase it often uses to describe antigovernment protesters.
Rights activists and independent analysts are questioning the credibility of that report, saying President Bashar al-Assad's regime may be trying to cover up another massacre by government troops aimed at crushing a popular antigovernment uprising.
Syrian government spokesman Adnan Mahmoud acknowledged that Syrian forces lost control of some areas for "intermittent periods of time." He claimed that residents of Jisr al-Shughour appealed to the army to do what was necessary to restore security there after troops were killed and government buildings were torched.
Interior Minister Ibrahim al-Shaar threatened strong and decisive action. "The state's responsibility is to maintain civilian and military life and to protect government buildings, which are public property," he said.
"We will deal strongly and decisively, according to the law, and we will not keep silent about any armed attacks that target the security of the country and its citizens."
No Reliable Reports
But it's impossible to verify details of what happened in Jisr al-Shughour because the government cut communications to the area on June 6 and because foreign journalists have been evicted from the country.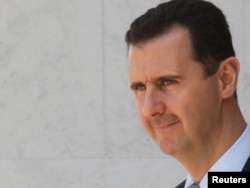 Syrian President Bashar al-Assad (file photo)
Nadim Houry, the Syria researcher for Human Rights Watch, says that her organization has not been able to contact any witnesses who could describe the June 6 events in Jisr al-Shughour.
Walid Saffour, president of the British-based Syrian Human Rights Committee, told RFE/RL today: "In such circumstances all our contacts in the province of Idlib where Jisr al-Shughour [is] situated ceased since yesterday morning."
But Turkish authorities say hundreds of Syrians have crossed into Turkey, some of them seeking hospital treatment, so eyewitness accounts could soon emerge.
Opposition Responsible?
Some independent analysts agree with Syrian activists who say the authorities appear to be setting the stage for an even more brutal crackdown in the days ahead. They cite a history of violent suppression by the regime of Assad and his family during 40 years of authoritarian rule.
Syrian human rights groups say more than 1,100 antigovernment protesters have been killed in Syria since a popular uprising against Assad's regime began there in mid-March.
Michael Weiss is the author of a new study on Syria's opposition and the director of communications for a London-based think tank, the Henry Jackson Society.
Weiss says that nothing reported on Syrian state television should be taken at face value -- particularly reports that accuse the opposition of carrying out a massacre of highly trained and well-equipped government troops.
"It's a complete lie. First of all, Syrian state television is controlled and owned by the regime, and the regime has done everything that it can to put forth its own propaganda on that outlet," Weiss says.
Weiss notes that the opposition is unarmed, "as a matter of principle, but also as a matter of necessity. I mean, they don't have access to the kinds of weapons that could carry out a 'massacre' of a well-trained state security forces operation. I just think that this is Assad's desperation."
...Or Killed By Government?
Weiss says the reported deaths of 120 Syrian security troops could also mean that Assad's regime is trying to cover up a massacre that has already taken place.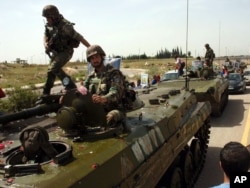 Were Syrian soldiers shot for not firing on unarmed protesters?
"What it hints at is that the regime is trying to cover up what was probably a likely massacre of the local civilian population, and it is claiming that its own soldiers were attacked first," Weiss says.
Noting that the desertion rate in the Syrian Army has been increasing recently, he adds that "the idea that 120 soldiers were just killed probably indicates that they were executed for refusing to fire on civilians, which is something that the Assad regime has done. There are mass graves of dead Syrian soldiers dug up in Daraa a few weeks ago by oppositionists."
Syrian human rights activist Mustafa Osso says there are unconfirmed reports of a few soldiers who switched sides and were defending themselves against attacking security forces. But Osso says the reports suggest the mutiny is limited and "does not pose a threat to the unity of the army yet."
Other Syrian activists, speaking on condition of anonymity, say there are unconfirmed reports of infighting between security forces. They describe the situation as "very foggy," "very serious," and "getting out of control." But they add that it's unclear who has been doing the shooting in northern Syria.
Assad Condemned
U.S. State Department spokesman Mark Toner has suggested that Assad's decision to allow pro-Palestinian protesters to storm the Israeli border twice in recent weeks indicates he may be trying to deflect focus from a serious crisis at home, and possibly divert international attention from a new crackdown.
"We condemn what appears to be an effort by the Syrian government to incite events and draw attention away from its own internal issues. And it's clear that such behavior will not distract international attention from the Syrian government's condemnable behavior on its own citizens," Toner said.
Syrian state television broadly covered the June 5 protest at the Golan Heights to the south frontier, which left as many as 23 people dead in fighting with Israeli forces. But it has not shown any footage of the protest, crackdown, or ambush at the northern edge of Syria.
Jisr al-Shughour, about 20 kilometers from the border with Turkey, has been the latest focus of the Syrian military's crackdowns on antigovernment protesters. Human rights groups say at least 42 civilians have been killed there since June 4.
Jisr al-Shughour had been a stronghold of the country's banned Muslim Brotherhood during the early 1980s when the government launched a three-week bombing campaign against the nearby city of Hama to crush an uprising by the Sunni Muslim community there, killing an estimated 10,000 to 20,000 people.
Jisr al-Shughour itself came under government shelling in 1980, with a reported 70 people killed.
On June 6 French Foreign Minister Alain Juppe said Assad had "
lost his legitimacy
" to rule Syria.
Speaking in Washington after talks with U.S. Secretary of State Hillary Clinton, Juppe said France now planned to circulate a draft UN Security Council resolution condemning Syria's use of deadly force to crackdown on opposition protesters.
He said Paris would do so despite the fact that such a resolution could be vetoed by Russia, which had opposed a European-led attempt to rebuke Syria in May.
Rights Groups Ask Hague Court To Probe Syria Killings
Syrian and international human rights groups today called on the International Criminal Court (ICC) to investigate the deaths of more than 1,000 civilians during protests against Syrian President Bashar al-Assad.
The prosecutor's office at the ICC said it had received the request, but its jurisdiction could only cover crimes committed in Syria by nationals of ICC member states.
Damascus has not signed the 2002 act that set up the court, which means the ICC does not have jurisdiction in Syria -- unless the UN Security Council refers it to the court.
On June 7, Amnesty International called on the Security Council to refer Syria to the ICC.
with additional reporting by RFE/RL's Kristen Deasy and news agencies