WATCH: Amateur video posted online appears to show civilians who have been shot and wounded in Hama, Syria, where government troops stormed the city over the weekend in a bid to crush opposition protests. (Reuters video)
The United Nations Security Council has held a closed-door meeting to consider revived moves by Western nations for approval of a draft resolution that would condemn the Syrian regime for its bloody crackdown on protesters.

The session followed the reported deaths of at least 140 people in Syria on July 31, including scores in the city of Hama.

The Syrian military offensive against anti-regime supporters was reported continuing in the central city Hama on August 1, and more deaths were reported.

As evening fell today, residents said Syrian tanks resumed intense shelling of the restive city and troops fired machine guns at worshippers about to head to mosques for special nighttime prayers on the first day of the Muslim holy month of Ramadan.

Residents had just broken their daily dawn-to-dusk fast, and the shelling appeared aimed at preventing the mosque gatherings, fearing they would trigger large anti-government protests.

The London-based Syrian Observatory for Human Rights says at least 24 people were killed in the latest crackdown with most of the deaths occurring in Hama.

Ahead of the Security Council meeting, U.S. Secretary of State Hillary Clinton urged Council members who had earlier opposed a resolution on Syria to reconsider, saying in a written statement that the international community should come together behind the people of Syria.

Clinton also demanded that the Syrian regime "stop the slaughter now."

President [Bashar al-]Assad has lost his legitimacy with the Syrian people," she said. "Syria will be a better place when a democratic transition goes forward."

Veto-holding permanent Security Council members Russia and China have previously refused to back a UN resolution condemning the regime of President Bashar al-Assad.

In another development, the European Union has expanded its sanctions against Syria, imposing asset freezes and travel bans against five more military and government officials.

The EU move brings the number of Syrians targeted for sanctions by the EU to 35, including President Assad.

'Stronger International Pressure'

Britain has called for "stronger international pressure all around" on Syria, but ruled out military intervention -- stressing that there was no prospect of achieving a UN mandate for military intervention such as in Libya.

British Foreign Secretary William Hague said pressure must not only be from Western nations, but must also come from Arab countries and from Turkey.

In Berlin, the German Foreign Ministry condemned what it called a war by the Syrian government against its own people.

Turkish Foreign Minister Ahmet Davutoglu also "strongly condemned" the violence, which coincides with the start of the Muslim holy month of Ramadan:

"We are deeply appalled and dismayed by the operations in Hama and other Syrian cities," Davutoglu said. "The method and timing of these operations is very wrong."

Deep Divisions Over UN Statement

Britain, France, Germany, Portugal, and the United States have been pressing for weeks for some kind of Security Council condemnation of the Syrian violence.

But Russia, China, South Africa, India, and Brazil -- who are all angry about the NATO bombing campaign in Libya -- have previously refused to support even a statement condemning the Syrian regime.

In reaction to the latest violence, however, Russia's Foreign Ministry said on August 1 that the use of force against Syrian civilians was "unacceptable and must cease."

Human rights activists say Syrian troops on July 31 killed more than 100 people in the city of Hama alone -- making the assault one of the most violent crackdowns since protests against Assad's rule began in March.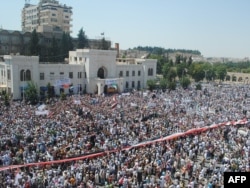 Huge crowds demonstrate against the Syrian government in Hama after Friday Prayers on July 29.
Syria's army used tanks and heavy weaponry to destroy makeshift barricades erected by demonstrators. But rights activists say many of those killed in Hama were shot by army snipers who were firing indiscriminately from rooftops at civilians.
Syria's government has banned foreign reporters from the country, making it difficult to independently verify what is happening. But some residents of Hama made videos of the chaos during the crackdown on July 31 and were able to send their footage out to foreign media using satellite phone connections.
The footage showed plumes of black smoke wafting over the city as tanks fired shells at buildings and groups of men tried to rescue wounded civilians from the streets of Hama:
For those without satellite telephones, communication with the outside world appears to be completely cut off. Firal Salgatham, a refugee from Hama who is now in Turkey, claimed he had been unable to contact any of his relatives back in Hama since the crackdown began on July 31.
"I heard that one member of my family was killed today [July 31] but I do not know who it is," he said. "It could be my mother, sister or father. We can get no information from there. Internet, electricity, and phones were cut off. All the people are silent now."
Syria's government, meanwhile, has blamed the violence in Hama on "armed gangs." President Assad says those fomenting unrest are conspirators who wish to cause "sedition."
In a speech marking the 66th anniversary of the formation of Syria's army, Assad said the military had "proved its loyalty to its people, country and creed."
compiled from agency reports