The Syrian government has resigned after two weeks of antigovernment protests in which at least 60 people have died.
State television said President Bashar al-Assad accepted the resignation of the government of Naji Otri.
The announcement came as thousands of people took part in regime-sanctioned shows of support for Assad across the country.
State television showed people in the capital, Damascus, as well as in Aleppo, Hama, and Hasaka, waving the national flag and pictures of Assad and chanting.
Assad is expected to address the nation in the next 24 hours to announce he is lifting a 48-year-old emergency law.
The law was instituted following a 1963 coup that brought the Baath Party to power.
Assad has ruled Syria for 11 years after succeeding his father, Hafez al-Assad, as president and Baath Party leader.
compiled from agency reports
Liveblog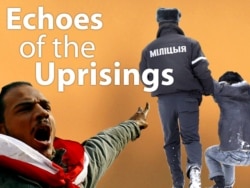 Tracking events and ideas convulsing the Arab world and with ripples around the globe, including RFE/RL's broadcast region.
Click here