Syrian President Withdraws Some Forces As Unrest Continues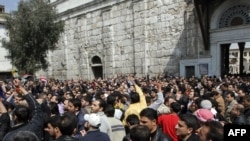 Antigovernment unrest continued today in Syria, as reports said thousands of protesters had again taken to the streets in the southern city of Daraa.
The Associated Press reports that President Bashar al-Assad has withdrawn some police and soldiers after violence in Daraa on March 25 led to the deaths of some 15 people.
Around 50 people are believed to have been killed during a week of unrest in and around Daraa, but the circumstances of most of the deaths remained unclear.
Reports also say that Assad has ordered the release of dozens of detainees and political prisoners as a way of appeasing the protesters.
Meantime, leaders of the ruling Ba'ath Party are meeting for a second time in three days to discuss ways of dealing with the unrest, the most serious challenge to confront the president in his 11-year rule.
Assad had earlier promised to raise salaries and to end the country's emergency law, which has been in effect since 1963.
Reports say those efforts at appeasement have only been met with growing calls for the president's ouster.


compiled from agency reports