Activists say security forces in Syria have arrested dozens of opponents of President Bashar al-Assad's regime following a bloody crackdown on protesters.
Human rights groups said leading activist Daniel Saoud, who heads the Committees for the Defense of Democracy, Freedoms and Human Rights was among those arrested in raids across Syria overnight.
The New York-based Human Rights Watch, meanwhile, called on the United Nations to set up an inquiry into the Syrian security forces' crackdown on protesters that has left at least 120 dead people in the past two days.
The
deadly crackdown
began on April 22, a day after Assad introduced concessions meant to quell the tide of discontent against his rule but which opponents derided as inadequate.
They included the end to a notorious state of emergency that has existed for nearly half a century and also conceded people's right to seek permission to stage peaceful protests.
Too Little, Too Late
However, opponents signaled that this was no longer sufficient. Ahead of rallies organized for April 22, an umbrella group representing the protesters issued a statement demanding a "rapid reformulation of our national institutions."
The statement -- issued in the name of "Syrian local organizing committees" -- demanded an end to torture, killings, arrests, and violence against demonstrators as well as three days of state-sanctioned mourning for those killed so far.
It also called for the release of all political prisoners and an independent inquiry into the death of protesters.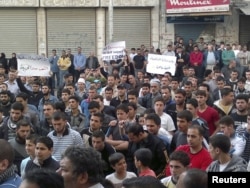 Syrian protesters gather during a demonstration in the northeastern city of Banias.
Most radical of all, it called for drastic constitutional reform that would limit presidents to two terms. Assad has been president for 11 years, having inherited the post on the death in 2000 of his father, Hafez al-Assad, who ruled Syria for the previous 30 years.
Around 350 people are now believed to have been killed in five weeks of demonstrations against what is considered one of the Middle East's most autocratic states.
International Outrage
Britain today urged its citizens to leave Syria while commercial flights are still available, saying the security situation in the country was "rapidly' deteriorating.
The recent violence in Syria has drawn international condemnation.
U.S. President Barack Obama denounced Syria's "outrageous use of violence to quell protests [on April 22]" and said such actions "must come to an end now."
"Instead of listening to their own people, President Assad is blaming outsiders while seeking Iranian assistance in repressing Syria's citizens through the same brutal tactics that have been used by his Iranian allies," Obama said in a statement.
A Syrian government source was quoted by Reuters as saying that Obama's statement "was not based on objective vision."
Elsewhere, UN Secretary-General Ban Ki-moon called for a transparent, independent investigation of the killings of demonstrators.
He also told the Syrian government to "respect international human rights, including the right to freedom of expression and peaceful assembly, as well as the freedom of press."
British Foreign Secretary William Hague condemned the "unacceptable killing of demonstrators by the Syrian security forces."
European Parliament chief Jerzy Buzek also condemned the violence in Syria.
compiled from agency reports