The UN Security Council has condemned the Syrian government's crackdown on antigovernment protesters in a move taken as reports of further bloodshed continued from the besieged city of Hama.
Syria's neighbor Lebanon, where Damascus's influence is strong, disassociated itself from the statement, agreed by the other 14 members of the council.
Calling for rights abusers in Syria to be held "accountable," the move increases pressure on Syria's rulers.
But the Security Council failed to agree on the stronger action of a resolution that Western powers had hoped for, settling instead on a less-binding Security Council presidential statement.
That's because Russia and China, both veto-wielding permanent council members, have rebuffed Western efforts to get a binding resolution on Syria passed.
Both Russia and China have said they oppose a binding resolution because it could pave the way for foreign military intervention against Syria similar to the NATO-led air strikes on Libya.
The council statement approved on August 3 condemns "widespread violations of human rights and the use of force against civilians by the Syrian authorities."
It urges an immediate end to all violence in Syria. It calls on all sides to act with utmost restraint, and -- in an apparent reference to protesters -- to also refrain from attacks against Syrian state institutions.
Protesters carry a man believed to be a slain protester in Homs, in an undated still image taken from amateur video footage made available on August 2.
Syrian tanks and troops reportedly were meanwhile continuing their offensive in Hama, which witnesses said came under shelling on August 3 as troops took over Assi Square in the city center.
Electricity, water, and phone lines were cut off on the fourth day of an offensive in Hama, which has been a focus of protests against President Bashar al-Assad's regime.
Syrian troops began tightening their siege on Hama on July 31 and have killed scores of civilians. The death toll has reached around 100, but the exact figure is difficult to verify.
Activists and witnesses say Syrian security forces shot dead at least six more protesters in several parts of the country on the night of August 3-4.
'Brutally Shocking'
Secretary-General Ban Ki-moon welcomed the UN statement, saying that the reported bloodshed in Syria in recent days has been "brutally shocking."
"I welcome the presidential statement adopted by the Security Council today as the clear message of the international community," Ban said. "The world has watched the deteriorating situation in Syria with the most profound concern, but the events of the past few days have been brutally shocking. Once again, I call on President Assad and the Syrian authorities to immediately cease all violence."
The statement condemns what it describes as "the widespread violations of human rights and the use of force against civilians by the Syrian authorities" and calls for those responsible to be held "accountable."
The statement urges an immediate end to all violence, calls on all sides to act with utmost restraint, and -- in an apparent reference to protesters -- to also refrain from attacks against Syrian state institutions.
The revolt against Assad, whose family has ruled Syria for four decades, was inspired by popular uprisings in Egypt and Tunisia that toppled long-ruling autocrats earlier this year.
But Syria's revolt has been among the deadliest in the region. The Syrian Observatory for Human Rights, a nongovernmental group, estimates that more than 1,600 civilians and some 370 members of the security forces have been killed since the pro-democracy protests began on March 15.
Growing Pressure
British UN Ambassador Mark Lyall Grant said it was time for "profound political reforms" in Syria and "genuine accountability for atrocities" committed by the government's security forces against opposition demonstrators.
"Barbarous acts must cease in Syria. The country must find its way on to a path of stability," Grant said. "This will only be achieved through the immediate cessation of violence and the implementation without delay of profound political reforms, respect of human rights and fundamental liberties, and genuine accountability for atrocities against protesters."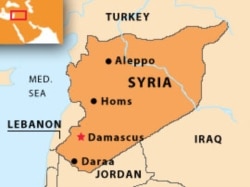 In Washington, the White House hardened its rhetoric about Assad -- saying the United States had no interest in seeing the Syrian president remain in power just to preserve regional stability. But the White House again stopped short of calling on Assad to step down from power.
White House spokesman Jay Carney said the United States "has nothing invested in Assad remaining in power," and that U.S. President Barack Obama's administration now viewed Assad as a "cause for instability in Syria."
The European Union expanded its sanctions on Syrian officials and Italy recalled its ambassador in Syria for consultation, citing the regime's "horrible repression against the civilian population."
Germany's Foreign Minister Guido Westerwelle meanwhile called for a special United Nations envoy on Syria to be named and immediately dispatched to the country.
Assad's regime insists that it is fighting an insurgency and that security forces are being killed by "armed terrorist gangs." But rights advocates say the deaths of security troops are the result of battles between government forces and troops that have defected from Syria's military in order to protect civilians.
In the latest example of conflicting claims about what is happening in Syria, state television has aired amateur video showing bloody corpses being thrown from a bridge into a river.
The state television report claimed the bodies were of security forces killed by protesters.
But rights activists challenged that account, saying the victims were pro-democracy protesters who had been killed by the army.
Syria's official SANA news agency said parliament would meet in an extraordinary session in Damascus on August 7 to discuss "issues concerning the nation and its citizens." But the report did not elaborate further about the session's agenda.
based on RFE/RL and agency reports