DUSHANBE -- The trial of two former police officers charged with beating a Dushanbe resident to death opened today but was immediately adjourned, RFE/RL's Tajik Service reports.
Former Dushanbe policemen Abdurahmon Yakubov and Kodir Hasanov -- who were dismissed from their jobs after they were charged -- were brought to trial for their alleged role in the death of Safarali Sangov.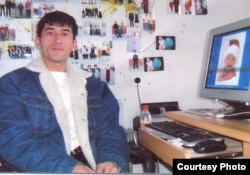 Safarali Sangov
Sangov was beaten at a police station in Dushanbe's Sino district on March 1 and taken to a hospital with severe injuries. He died several days later.
Police tried to depict the death as a suicide but, under pressure from the Prosecutor-General's Office, law enforcement officers admitted that Sangov was beaten while in police custody.
Judge Sulaimon Kosimov adjourned the hearing today as the prosecutor did not show up in the courtroom. It is due to resume on June 6.
Sangov's relatives say several police participated in his arrest on March 1, suggesting that more than two police officers may have been involved in the beating that led to his death.
Read more in Tajik here