When Atovullo Raqibov's mud-brick home was ordered demolished by the Tajik authorities to make way for a reconstruction project, the father of five and his wife traveled to the capital, Dushanbe, to seek redress in front of the presidential palace.
They went to the ombudsman's office and the local UN headquarters. But no one listened, until the Islamic Renaissance Party (IRP) took up their case and promised help in building a new house for the Raqibovs in their home district of Faizobod. Soon, a Facebook page was set up to support the family and their story gained national attention.
In Tajikistan, most people say the only time they hear about the activities of political parties is a couple of months before major elections.
But one growing exception is the IRP. Although it has only two seats out of 96 in the bicameral assembly, the IRP is pursuing a determined campaign of community work and charitable activities to broaden its appeal and raise its profile among ordinary people. And it appears to be working.
Established in 1990, the IRP is the only officially registered Islamic party in Central Asia. Since 2006, the party has been led by Muhiddin Kabiri, a 45-year-old media-savvy businessman, who counts handball as his favorite hobby.
The Raqibov case is the latest example of the party's efforts to gain popular appeal through social projects.
"They are not just random charitable acts by the party, but it is a clearly defined strategy," says Parviz Mullojonov, a Dushanbe-based independent analyst. "This is a long-term plan to enhance the party's standing among the general public. It has been discussed in a party conference that in addition to religious and political issues, the party should also focus on social and economic projects."
IRP leader Kabiri is adamant that the party's community work has nothing to do with politics.
"People come to our party's headquarters to ask for help, including financial aid, and to seek advice on many different issues," Kabiri says. "And we try to help them as much as we can. We see it as our religious duty. We believe people expect from an Islamic party much more than what they would expect from just a political party."

Winning Over Hearts, Minds
When severe floods struck the southern town of Kulob last May, IRP activists rushed to the area to donate money and distribute food for the victims. They remained in Kulob for days, helping people to clean their streets and homes.
"Our aim is that people see our party for what we really are. We want to put an end to unfair and false misconceptions about our party," Kabiri says. "Under the current circumstances in the region and in the world, any party called 'Islamic' can very easily be misunderstood."
"I always believed the IRP was a party of terrorists and Wahhabists," says Ahmad Ibrohim, a Kulob resident, whose house was destroyed by last year's floods. "But when I saw the party leaders and activists coming to help us after the natural disaster, I changed my mind."
Ibrohim says that helping people personally "has a completely different effect than making statements from high tribunes."
"When the party activists – with their clothes covered in mud and dirt – were helping us, people realized that the rumors about them being terrorists and extremists are not true," he said. "There were assumptions that IRP followers seek to provoke conflicts and distribute weapons to people. But soon people realized none of that was true."
He adds that even if they are pursuing a political agenda, that is fine "as long as they want to achieve that by helping people."
Kulob is the home-region and a political support base of President Emomali Rahmon and a place where the IRP was always treated with caution. But the IRP's social activities appear to be giving it an edge over other political groups.
"We hear about other political parties only during elections," Ibrohim says. "Between elections, other opposition party leaders only appear in seminars – conducted by foreign NGOs – to complain about how hard it is for them to operate."
Appealing To The Young
Unlike other political groups in Tajikistan, the IRP has taken active advantage of social media by launching its own Facebook page and YouTube channel. The party's focus on social media has widely been described as its attempt to attract supporters among the younger generation.
Kabiri and other party leaders frequently meet young people and university students in Dushanbe and other cities.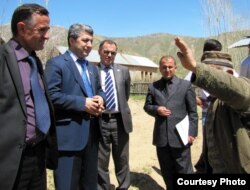 Kabiri (second from left) meets with the family of Atovullo Raqibov, whose home was demolished by the Tajik authorities to make way for a reconstruction project.
"People don't always want to hear religious and political lectures," says Tavakkal a 20-year-old student in Dushanbe. "We are more interested in everyday problems like unemployment, and this party's leaders address exactly what is bothering us most."
Most IRP volunteers are young people and university students who help the party in organizing political campaigns and implementing social projects.
The first group of volunteers was set up during the 2010 parliamentary election campaign to work with the party's youth affairs section.
Suspicions Remain
Kabiri once said he doesn't aim to create an Islamic state in Tajikistan but that his party's aim is to have an "Islamic society" in the country.
Despite Kabiri reassurance about his party's ultimate goal, many Tajiks still treat the IRP and its social programs with a great deal of reservation. Some experts privately say the party is concealing its true agenda while it contemplates a long-term plan to come to power one day.
Others accuse it of getting financial aid from foreign Islamic states and organizations. The party, however, insists that the source of its income are generous donations by charitable businesspeople, as well as membership fees from its some 40,000 members.
As for the other political parties in Tajikistan, Kabiri says, "They all are in position to do what we do. No one is stopping them."