WATCH: Taliban militants stormed the headquarters of Pakistan's naval air force overnight, blowing up at least one aircraft. (Video by AP)
Security forces in Pakistan say they've regained control of a naval aviation base after heavily armed Taliban stormed the facility in the port city of Karachi overnight.
Initial reports said up to 20 militants attacked the Mehran Naval Station from three sides -- killing 11 navy officers and one paramilitary ranger.
But Interior Minister Rehman Malik said later that no more than six "terrorists" had attacked the base, killing 10 security officers and injuring 15 others.
Malik said the bodies had been recovered of four militants killed during a battle that lasted more than 12 hours. He said two other militants are thought to have escaped by running away.
"This is an act-of-terrorism case [against] Pakistan, as was being speculated [about]," Malik said. "And also the Taliban and Al-Qaeda had announced earlier that they would attack Pakistan's military installations and, of course, the armed forces and they have done this first act. And that is why I say Pakistan is [at] war."
The attackers destroyed at least two patrol planes -- including a multimillion-dollar PC3-Orion plane that had recently been delivered to Pakistan by the United States.
Malik said 17 foreigners at the base were safely evacuated after the attack began. They include 11 Chinese engineers and six American contactors who were helping to keep aircraft operating.
Pakistani Taliban fighters claimed responsibility for the raid, saying it is revenge for the killing of Al-Qaeda leader Osama bin Laden by elite U.S. forces in Pakistan earlier this month.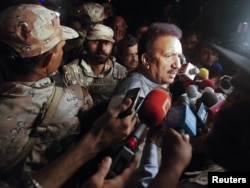 Pakistani Interior Minister Rehman Malik speaks to the media outside the Mehran base on May 23.
The raid on Pakistan's Mehran navy base is seen as one of the most serious breaches of security at a Pakistani military installation.
Are Pakistan's Forces Competent?
The raid in Karachi was the second major attack on a facility of Pakistan's security forces since the killing of bin Laden on May 2. On May 13, two suicide bombers targeted paramilitary police recruits in the northwestern district of Charsadda, killing 80 people and injuring more than 100.
That has led some to question the competence of Pakistan's security forces -- noting that both the Charsadda attack and the Karachi raid were carried out in the midst of a maximum-security alert over threats of militant attacks to avenge bin Laden's death.
"You can see how much security there is around this place. No ordinary person can get inside," said a Karachi resident who lives near the naval base.
"How did these people get in? This means that our security is incompetent. This is obviously a security failure."
Another Karachi resident who witnessed the attack said it was disturbing to see the ease with which the Taliban fighters were able to fight their way into the navy base.
"There was fierce gunfire. It seemed like a battlefield in there. We were standing here with the children. We were worried about where to go," the man said.
"There was no one to help us, neither police nor anyone else. Then we found out there was a blast inside Mehran."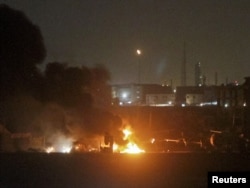 Smoke rises from a fire near airplanes inside the Mehran base in Karachi late on May 22.
Mullah Omar Reports 'Propaganda'
Meanwhile, Taliban spokesmen in both Afghanistan and Pakistan are dismissing as "pure propaganda" reports that the spiritual leader of the Taliban -- Mullah Mohammad Omar -- has been killed.
Omar is the one-eyed Taliban leader who created the world's strictest Islamic state in Afghanistan during the 1990s, and sheltered bin Laden before the 2001 U.S.-led invasion ousted the Taliban regime from Kabul.
Today, an Afghan television station and the AFP news agency reported that Mullah Omar had been killed in Pakistan.
But Afghan Taliban spokesman Zabihullah Mujahid said the reported death of Mullah Omar "is not possible at all," adding that Omar was currently in Afghanistan "leading the mujahedin."
Pakistani Taliban spokesman Ehsanullah Ehsan said today that Omar was "safe and sound in a safe place."
compiled from agency reports