"Wars today cannot be won without media. Media aims at the heart rather than the body, [and] if the heart is defeated, the battle is won."
This conclusion, reached by Abdul Sattar Maiwandi in an interview published recently on the website Al-Emarah, is not groundbreaking. The importance of winning the "war of words," as Maiwandi describes it, to winning an actual war has long been understood.
But consider the source. Maiwandi is the editor in chief of Al-Emarah, which is an official Taliban website. And while the Taliban officially banned photography, movies, and the use of the Internet when it was in power in Afghanistan -- considering them un-Islamic -- today the militant group cannot deny the potential of such media as tools of propaganda and recruitment.
The Taliban employs a number of tactics on the modern media battlefield. The group has established an official "media committee" to oversee the effort, according to Maiwandi. He says a professional production studio called Al-Shahamat has been set up to produce videos.
From there they are distributed on Taliban websites, passed from mobile phone to mobile phone, and reach broader audiences through other outlets, such as Facebook and YouTube.
Danish Karokhel, director of Afghanistan's first independent news agency, Pajhwok Afghan News, says that the Taliban's media campaign is intended to affect the opinions of both Afghans and foreigners.
"They do [propaganda] to influence foreign nations to put pressure on their governments [to withdraw their forces from Afghanistan]. Also, they want to spread terror among people in Afghanistan through their videos," Karokhel says. The Taliban "want to scare people so they do not support the government. They threaten people. Whoever sees those kinds of videos will obviously be scared."
Taliban.com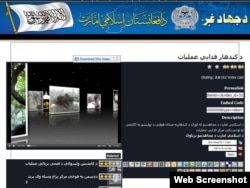 Al-Shahamat features professionally edited videos depicting attacks on Western forces and other propagandistic material.
The Taliban websites alemarah-iea.net and shahamat.info are vehicles for the militant group to disseminate a variety of propagandistic material.
Al-Emarah, which is published in English, Pashto, Dari, Urdu, and Arabic, features a series of videos critical of projects funded by the United States and other Western countries involved in the war in Afghanistan. They explain how the construction of roads, schools, and clinics is poorly carried out and wastes money. The projects are characterized as examples of Western false promises and efforts to mislead Afghans.
Many of the
videos
offered by the two websites
show suicide bombings carried out
against Afghan and international forces, accompanied by audio of Koranic chants known as nasheeds.
In one clip posted on shahamat.info, a young militant in traditional Afghan dress drives a van into a U.S. military convoy. There is a blast, and the camera focuses on the ensuing blaze.
The video segues to scenes of the perpetrator prior to the suicide attack. He asks his parents not to cry for him; they should thank Allah that their son was able to make the ultimate sacrifice.
Another recently uploaded video shows a number of suicide bombers who, one by one, express their strong desire to "kill Jews and Christian forces and their rented Afghan army."
Attacks on U.S. and Afghan Army and police forces are shown, followed by beheadings of captured officials.
Militant Networking
Azmat Gharanai, an information-technology expert who operates an Internet service provider in Kabul, believes the Taliban uses the web to reach foreign sympathizers and financiers.
"I think they want to keep connected with each other. They may not be able to contact each other directly, so these [websites] could be used to communicate with their followers in another corner of the world and vice versa," Gharanai says. "I am 100 percent sure that these websites are their [Taliban militants'] centers for communication."
Gharanai says the Taliban effectively uses free video-sharing sites like YouTube and social-networking sites such as Twitter and Facebook.
The Facebook page of the Islamic State of Afghanistan
RFE/RL was unable to independently verify whether the Facebook sites are actually endorsed by the Taliban or are merely fan sites set up by sympathizers. As of this week, one Facebook account under the name of the Islamic State of Afghanistan had more than 1,600 fans.
The page's news feed keeps close tabs on the Taliban's activities through posted videos, articles, and photographs and provides links to friendly sites and contact information for Taliban spokespeople.
The page calls on visitors to support the Islamic Emirate of Afghanistan, which has its own Facebook page with more than 1,000 fans. The emirate's info page lists its location as International Falls, Minnesota, and its administrator is listed as Muhammad Zaib Khan Mujhaid
Terrorist Texting
In his interview with Al-Emarah, editor in chief Maiwandi explains how the Taliban is taking advantage of another media tool -- cell phones.
He says news posted on the site is converted to SMS text messages, which are then sent to subscribers, who can then send them on to their own contacts. "Each of them sends it to his acquaintances inside and outside Afghanistan, and so a chain of dissemination begins," Maiwandi says.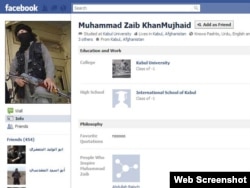 Muhammad Zaib KhanMujhaid's Facebook page
Pajhwok Afghan News Director Karokhel says his reporters even get stories, pictures, and videos from Taliban insurgents via text message.
Gawhar, a young man in Afghanistan's eastern Khost Province, says messages and videos received by phone are an effective scare tactic.
"Today, everyone has a mobile phone and mobile phones that are able to run and record videos. I had it, too, and have seen people watching the videos of Taliban slaughtering government workers," he says.
"These are very scary and anyone who saw them would not be willing to continue working with the government. These videos are hateful."
Gulab Shah, a resident of Paktia Province who has seen videos of suicide bombings and slayings, advises people who receive such videos to avoid watching them.
"I saw a video in which Taliban [militants] slaughter people. It ruined my mood. Afterward, I could not even sleep because I was just thinking of this scary video in which Taliban were slaying young men," he says.
"These kinds of videos have an extremely bad impact on people, and therefore I would like to tell people not to watch these videos. They do not need to watch them. It is unnecessary."
Some question why the dissemination of such information via phone is even allowed by the government. But when asked if this outlet can be controlled, Information and Technology Ministry spokesman Emal Marjan offers a simple "no."
"We give operation licenses to telecom companies so they can provide communication services to people. It is neither ours nor the company's responsibility to identify who uses the services for what purposes," Marjan says.
"It is up to people how to use the means of communication. Everybody can share his heart's secret or anything he wants. It does not come under any law."