Discovery In Tatarstan Prison Raises More Suspicions Of Abuse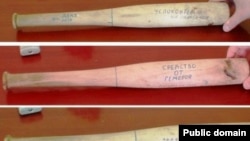 A grim discovery at a prison hospital in Tatarstan has sparked suspicion of inmate abuse, the latest scandal to hit the republic's law enforcement authorities.

The Kazan Human Rights Center on July 30 said a routine inspection by rights activists led to the discovery of a baseball bat engraved with inscriptions suggesting it could have been used to torture inmates.

Vladimir Rubashny and Nikolai Arkhipov, who are also members of Tatarstan's Public Monitoring Commission, say they found the item in the facility's office during their visit last week.

They photographed the bat, which bears inscriptions such as "tranquilizer," "remedy for hemorrhoids," and, "trip to the moon."

Rubashny says the warden on duty was unable to provide any convincing explanation concerning the bat's provenance or purpose.

"I took it and showed it to the assistant on duty, asking him what this item was used for. He was unable to tell me -- at first he said it was a piece of evidence seized from an inmate," the activist says.

"This is clearly a lie; how can it be a piece of evidence if it's not inside a plastic bag, if there's no indication of when it was seized and who from; if it's just lying there for everyone to take."

Law enforcement officials have been under increased scrutiny since an inmate died in March after police allegedly beat and raped him with a champagne bottle.

The death of 52-year-old Sergei Nazarov in Kazan sparked a public outcry and led to the dismissal of Tatarstan's police chief. An investigation is still under way.

Official Denials

The Kazan Human Rights Center informed the republic's penal authorities about the bat's discovery and asked prosecutors to look into the case.

Tatarstan's penal authorities were quick to react, explaining in a statement that the bat had been carved by an inmate at the facility's wood shop. They say prison officials had seized the item and destroyed it the next day.

They accused Rubashny and Arkhipov of seeking to "influence public opinion" and "discredit" the republic's penal system.

They added that staff at the prison hospital were "outraged" by the rights group's allegations and were preparing a letter of complaint to the Public Monitoring Commission, which reports to the federal Public Chamber, a body established in 2005 to provide oversight of the government.

The Kazan Human Rights Center has stopped short of accusing the prison of torturing inmates, stressing that the discovery merely sparked suspicions.

Rubashny, however, is convinced the prison administration is hiding the truth. "It was worn and its handle was rather dirty. Obviously it had been used for something," he notes. "Its inscriptions were also clearly made with different handwritings. I think the different wardens on duty carved the inscriptions one after another."

The scandal comes as Marat Kudakeyev, one of the men arrested last week for allegedly attempting to kill the mufti of Tatarstan, complained of being tortured by electroshock in pretrial detention.


Written by Claire Bigg, based on reporting by RFE/RL's Tatar-Bashkir Service