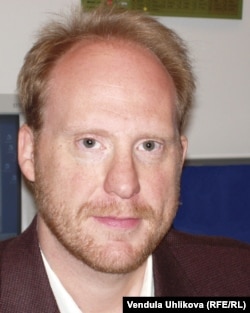 Grant Podelco
In this week's episode, writer at large Jamie Kirchick sits down with famous author, atheist, columnist, and intellectual Christopher Hitchens.
Kirchick visited Hitchens at the author's home in Washington, D.C., and the conversation ranged from revolutionary politics to Hitchens' views on Iran, Iraq, Afghanistan, and the United States, and on political leaders ranging from Margaret Thatcher and Jimmy Carter to Colin Powell and Vaclav Havel. It makes for entertaining listening.
The podcast presents an edited version of the interview. Click on or download the "Blender Extra" below to listen to the interview in its entirety.
Also in Episode 2, correspondent Gregory Feifer examines the controversy surrounding the new Arctic oil deal between the multinational BP and Russia's state-controlled Rosneft oil company.
This week's host is
Grant Podelco
.
Download the episodes below or
subscribe on iTunes.
RFE/RL's "The Blender" -- Episode 2
The Blender Extra -- Full Interview With Christopher Hitchens