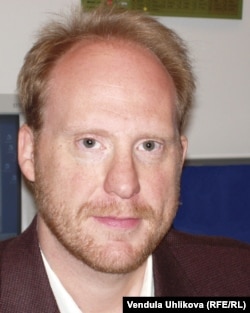 Grant Podelco
Welcome to the debut episode of our new weekly podcast, which we're calling "The Blender." It'll feature the best of RFE/RL -- features from our far-flung bureaus, interviews with newsmakers and correspondents, reports on language, music, and culture, even a little humor now and again.
In this week's episode, correspondent Daisy Sindelar sits down with Alexander Lukashuk, the director of our Belarusian Service, to discuss the ongoing crisis in Belarus, where the government is continuing its brutal crackdown on the opposition following a disputed presidential election.
Editor and blogger Brian Whitmore and our chief Washington editor, Christian Caryl, dissect the issues surrounding the shootings in Arizona, which took the lives of six people, seriously wounded a U.S. congresswoman, and sparked a national debate about the tone of political discourse in the country.
And Salome Asatiani of our Georgian Service had the pleasure of interviewing best-selling author Michael Cunningham, who was in Prague to promote his latest book, "By Nightfall."
This week's host is
Grant Podelco
.
Download the first episode below or
subscribe on iTunes.
RFE/RL's "The Blender" -- Episode 1