PROHICI, Bosnia-Herzegovina -- It was a video that shocked and disgusted much of the world.
In July 1995, General Ratko Mladic, the Bosnian Serb wartime commander, ruffled a young boy's hair, patted his cheek, and tossed him a piece of chocolate as television cameras rolled.
Just hours later, in the largest act of mass murder in Europe since the Holocaust, Mladic would oversee the massacre of more than 8,000 men and boys in the vicinity of the Bosnian city of Srebrenica. Among those killed was the 8-year-old boy's father.
The boy, Izudin Alic, is now a lanky 24-year-old man with brown hair and chiseled features. And on June 3 he was finally able to see the man responsible for his father's death in the dock.
Mladic, 69, was arrested last week by Serbian authorities after 16 years in hiding. He was extradited to the International Criminal Tribunal for former Yugoslavia (ICTY) at The Hague where he faces 11 counts of genocide and other crimes committed during the 1992-95 war in Bosnia.
In an interview with RFE/RL's Balkan Service, Alic describes his encounter with Mladic nearly 16 years ago.
"That was the first day I came to Prohici with my mother, grandfather, two brothers, and one sister. We were trying to find shelter. I was among other children and someone was giving us chocolate," Alic said.
"And then Mladic came, gave me a chocolate, patted me on the head and cheeks, but I didn't know who he was at that time. I took the chocolate, and I ate the chocolate. I didn't know anything; I was a child."
Massacre
Alic was among thousands of Bosnian Muslims, known as Bosniaks, who fled the Srebrenica area seeking protection from United Nations peacekeepers.
At the time, Srebrenica had been declared a safe haven by the UN where some 20,000 sought refuge. But Bosnian Serb forces, who outnumbered the Dutch peacekeepers protecting it, attacked the city anyway. Mladic's forces allowed the women to leave but separated out the men and boys and unleashed a brutal series of systematic mass killings. Over a decade later, forensic scientists are still working to identify the thousands of bodies left in mass graves.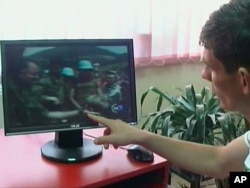 Alic watches video footage of himself receiving chocolate from Mladic
When Srebrenica was attacked, Alic and his female relatives fled to a refugee camp near the northern Bosnian city of Tuzla for the remainder of the war. Today Alic is unemployed and gets by on occasional construction work. He and his family eventually returned to live in their native village of Prohici.
Speaking after a visit to the Srebrenica Genocide Memorial in the town of Potocari, Alic had strong words for the former Bosnian Serb wartime commander: "Mladic is responsible for the genocide, for the massacre, for Srebrenica. Mladic should stand in front of the judges because he committed all these crimes."
At The Hague, Mladic has declined to enter a plea, calling the "monstrous words" being leveled against him "obnoxious" in his first court appearance today.
But Alic feels confident that justice will prevail.
"The Hague will prosecute him. He should be charged for these crimes because he is responsible for these acts, even though Mladic says he did not commit these crimes. I think he should be in The Hague or in jail for the rest of his life," Alic said.
Still, returning to the place of his father's death in the wake of Mladic's trial brings a rush of memories to Alic. He is grateful, he says, to be one of few Bosnian males to have survived the conflict.
"A lot of Bosniaks are buried here, but I don't like to remember the day genocide happened. I'm lucky -- I could be here as well, but I was lucky. Thank God, I survived," Alic said.
RFE/RL's Mirjana Rakela and Kristin Deasy contributed to this report