In 1998, divorced and with her three children grown, Kathryn Bolkovac, a police officer in the western U.S. state of Nebraska, was looking for a change.
So she applied to join the UN's International Police Task Force in Bosnia-Herzegovina. The IPTF, created in the wake of the 1995 Dayton peace accords, was tasked with monitoring and training local law enforcement bodies during the uneasy years that followed the Bosnian war.
Shortly after her arrival in Bosnia, Bolkovac was deployed to the city of Zenica, where she was put in charge of a project aimed at fighting violence against women. Soon after, she encountered a battered young woman who was not from the Balkans but from Moldova.
The woman, Viktoria, spoke neither English nor Bosnian, and could not explain what had happened to her. But she was able to point Bolkovac in the direction of a local nightclub, called the Florida. Bolkovac, joined by a translator and a member of the local police, headed to the club.
"We started looking around. The place was open. And I found behind the bar an actual metal box which had passports and U.S. dollars in it," Bolkovac says. "And the passports were of numerous East European girls. And so at that point in time was when I started getting quite suspicious that obviously this girl as well as others had been held captive there.
"And we then looked around and walked the perimeter of the place and found an exterior staircase to a locked door on the second floor, and upon forcing that door open discovered seven more girls were being held captive there. And it was quite distressing. They were obviously being held against their will, locked in, no passports of their own. And that's kind of where it all started."
'Progressively Worse'
What Bolkovac had stumbled upon, she quickly realized, was a sex-trafficking ring, operated by the Serbian mafia and trading in girls from Ukraine, Moldova, and Romania, some as young as 12 years old.
And the U.S. dollars in the metal box in the Florida added another sinister link -- the possibility that the clientele for the trafficked girls were Americans working in Bosnia, potentially even Bolkovac's own fellow police officers.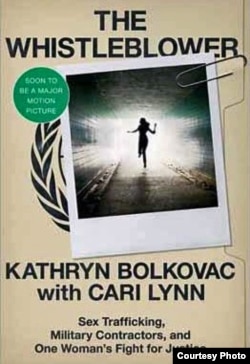 Her suspicions soon proved true. As more and more people heard of Bolkovac's work, trafficking victims and Bosnian investigators began to step forward to share what they knew.
Again and again, the evidence suggested that American and other international contractors were having sex with underage trafficking victims or even buying them outright. In some cases, she said, the men were not even bothering to hide it.
"The cases got progressively worse, involving all internationals -- military, IPTF, civilian employees -- until I actually had a U.S. contractor who was an American police officer working with me actually tell me that he had purchased a woman outright from one of the bar owners right outside Sarajevo, and taken her home to keep and to marry and to take back to the States with him." she says. "But she ran away [and stole] his mobile phone, and that really upset him. So, yeah, there were some pretty incredible incidents that occurred, which I still really can't believe."
Immune From Prosecution
Alarmed by what she saw, Bolkovac -- who has detailed her experiences in Bosnia in a new memoir, "The Whistleblower," soon to be released as a film -- sent repeated reports up the chain of command. Some investigations reached as high as the office for the UN special representative to Bosnia, Jacques Paul Klein. But time and again, her reports were ignored or summarily dismissed as "solved," although the details of the "solution" were never shared with her.
Slowly, Bolkovac says, she began to see the difficulties of cracking down on international contractors who were not held to any law -- U.S., Bosnian, or military. She and fellow members of the international police corps were effectively immune from prosecution. In a chaotic postwar country with flourishing trafficking rings, she says, the combination of freedom and immunity made for a "precarious" situation.
Increasingly, she directed her anger at her own immediate employer, a company called DynCorp, which had won the U.S. State Department's $15 million contract for hiring American personnel for Bosnia.
According to Bolkovac, DynCorp had been far from scrupulous in screening its American applicants, sometimes allowing in personnel with little experience or questionable histories. The end result, she said, was a group where some members fell all too easily into the local criminal scene.
"Certainly, the [Balkan] mafia is very well organized and they've infiltrated many facets of the international community, that's no secret. And of course they're involved in trafficking and in making a good bang for their buck," Bolkovac says. "But the idea that international police officers are involved in this is so disturbing to me. That's what I think is the most disturbing.
"Of course, coming from a policing background, you expect corruption. And we certainly expected corruption to be in Eastern Europe and in Bosnia. But once again, I would think the vetting process for recruiting police officers, especially from the United States, would be a bit better by our State Department than what it is for these contractors."
Demoted, Then Fired
After less than two years on the job, Bolkovac was demoted and then summarily fired for gross misconduct, a charge she says was meant to cover up her employers' discomfort over her allegations. She finally was forced to flee the country, carrying a bag packed with her investigative reports, after it was determined there was a probable threat to her life.
Bolkovac successfully sued DynCorp for wrongful termination. DynCorp went on to dismiss seven of its employees in Bosnia for "unacceptable behavior" and publicized internal efforts to reform its screening mechanisms.
But the sex-trafficking scandal has not prevented DynCorp from winning a number of lucrative State Department contracts, including similar police-training missions in Afghanistan and Iraq. The company has faced accusations of massive misconduct in those countries as well.
In Iraq, DynCorp is believed to have squandered more than $1 billion in U.S. government funds. And a U.S. diplomatic cable published by the WikiLeaks website suggests that DynCorp workers employed to train Afghan policemen had been witnessed taking drugs and paying for young "dancing boys," or child prostitutes.
DynCorp authorities have defended their company's performance in both Iraq and Afghanistan and have taken steps to encourage a more transparent and disciplined corporate culture.
Looking The Other Way
Bolkovac says she believes her work has helped raise awareness of human trafficking in the Balkans. But she's less certain it's had any impact on the lawlessness that still exists within the international contractor system.
"I don't believe that every person going over there who are employed by the contractors, the international community, or even the State Department are involved in this. I think it's, at the max, 10 to 20 percent of these people who are involved in these crimes," she says.
"But the problem is that the other 80 percent who aren't involved aren't doing anything to stop it. And they're looking the other way. It's like these people, when they go overseas, because they're 5,000 miles away from home, think they're not going to get caught. And many of them don't, and many of them continue."