The seemingly endless rollercoaster of Russian-Belarusian relations is taking another sharp dip as Minsk brings two Russian citizens to trial in connection with a December protest against the disputed reelection of President Alyaksandr Lukashenka.
The Russians -- Ivan Gaponov and Artyom Breus -- were caught up in a harsh postelection crackdown and now face up to eight years in prison if convicted of participating in mass disorder in Minsk on December 19. The trial of the two men opened, ironically, in Minsk's Moscow District Court on February 22, and was suspended until March 1 following one day of testimony.
The case once again turns the spotlight on the Eastern European country's tricky relations with Moscow. Throughout his 16 years as president, Lukashenka has tacked a delicate course between his eastern neighbor and the West, playing one against the other with some success at various times.
Now, however, with the United States and the European Union threatening again to ratchet up sanctions over the crackdown and trials of pro-democracy demonstrators, Lukashenka has proceeded to bring the Russians to court over Moscow's strident objections.
Just days after the men were arrested in December, the Russian Foreign Ministry began lobbying for their release, arguing that their presence at the protest was merely an administrative violation that should be handled with a warning, a fine, or, at most, a few days' detention.

The incident has exposed some of the strange dynamics of the Minsk-Moscow tango.
Konstantin Zatulin, the director of Russia's Institute of the CIS and a State Duma deputy with the ruling United Russia party, tells RFE/RL that Lukashenka has a hard time understanding why Moscow has criticized his postelection crackdown.
"Russia has a position that boils down to the following: We don't doubt the results of the election, unlike the West, which is now trying to turn back the clock on Lukashenka's reelection," Zatulin says.
(WATCH: RFE/RL's Belarus Service talks to Ivan Gaponov's lawyer)
"We are separating the election itself from the events after the election," Zatulin adds. "Moreover, we consider the reaction of the Belarusian authorities to be excessive, but Belarus, for its part, in the framework of its own logic, suspects us of having a double standard, since the Russian authorities themselves act rather harshly in response to demonstrations if they break the law. Therefore, explaining sensibly why we consider Belarus's reaction to be excessive while not considering our own policies excessive is rather difficult."
Although Lukashenka over the years has generally been willing to play second fiddle to Moscow, especially as long as generous subsidies have been reliably provided to Belarus's anemic economy, he reacts defiantly when the Kremlin tries to interfere too strongly. He would never accept the kind of involvement in domestic political processes that Moscow has practiced for years in neighboring Ukraine, for example.
'Lesser Of Two Evils'
Kremlin-connected political analyst Stanislav Belkovsky says Lukashenka pursues a delicate balancing act in order to achieve his ultimate goal -- staying in power.
"Lukashenka, being a tactician rather than a strategist, heads again toward Russia's embrace, understanding perfectly that the more repressive his regime looks, the more Moscow likes it, because Moscow loves to be seen as 'the lesser evil,'" Belkovsky says.
"Of course, Alyaksandr Lukashenka wants to show that he will not allow any interference in the internal affairs of Belarus, particularly on the part of Russia. And Russia, of course, has greater opportunities to interfere than anyone else does."
That is, although Lukashenka sees Russia as Belarus's best ally, he also sees Moscow as "the greatest danger" to his own position, Belkovsky added.
Moreover, even if Lukashenka does not believe that Gaponov and Breus participated in the demonstration at the Kremlin's behest, he may be reacting on a psychological level, Belkovsky says.
"Russians are always more guilty in his eyes than the citizens of other countries because they belong to an allied country and they should be friends by definition," Belkovsky says.
"Any attempt by Russians to support the opposition is taken by Lukashenka as doubly painful and must be punished doubly severely."
Zatulin adds, however, that no matter what the outcome of the Gaponov-Breus trial, relations between the two countries will soon regain their equilibrium.
Written in Prague by RFE/RL correspondent Robert Coalson based on reporting by RFE/RL's Belarus Service in Minsk and RFE/RL's Russian Service in Moscow

Special Page: Belarus Crackdown
Crackdown In Belarus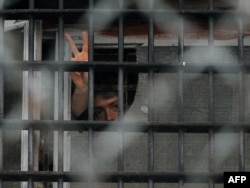 A special page devoted to coverage, views, and multimedia features on authorities' response to public doubts about Belarus's presidential election.
Click here