WATCH: Explosions shook Tripoli early on May 24 in one of the heaviest NATO bombing strikes on the capital to date (video by AP)
.
The highest-ranking U.S. State Department official to meet with Libya's opposition leaders in Benghazi says the rebels have accepted an invitation to open a representative office in Washington.
Jeffrey Feltman, the U.S. assistant secretary of state for Near Eastern affairs, made the announcement today after talks in Benghazi with the Libyan rebels' Transitional National Council.
Although Washington has insisted that Libyan leader Muammar Qaddafi step down from power, it has not given the opposition full recognition.
Only a handful of countries, including France and Italy, have recognized the Transitional National Council as Libya's legitimate government. But opposition has been extending its diplomatic reach.
Catherine Ashton, the European Union's foreign-policy chief, opened an EU office in Benghazi on May 22. Germany has also announced the establishment of a liaison office there.
The opposition also is reportedly expected soon to nominate a diplomat to represent them in Paris.
Feltman's three-day visit to rebel-held Benghazi comes as NATO launched one of the heaviest nights of bombardment on Tripoli since the alliance began in March to enforce a UN resolution to protect Libyan civilians from Qaddafi's forces.
Foreign journalists were shown the bodies of three people with head injuries who allegedly were killed by the overnight air strikes. But the correspondents said they were unable to confirm that the dead were killed by NATO bombs. At least one appeared to show signs of being struck in the face with a blunt object.
But Libyan government spokesman Moussa Ibrahim, who took the foreign journalists to Tripoli's central hospital to show them the bodies, insisted the three were killed by the overnight air strikes.
Ibrahim said the strikes had targeted a compound of the Popular Guards, a tribal-based military detachment. But he said the compound had been emptied of people and "useful material" in anticipation of an attack, and that the casualties were local residents.
NATO said in a statement that it had targeted a "vehicle storage facility" close to the main government compound in Tripoli.
The statement said the facility "is known to have been active during the initial regime suppression of the population in February" and had remained active ever since, "resupplying the regime forces that have been conducting attacks against innocent civilians."
Attack Helicopters
French officials, meanwhile, have announced that they will deploy attack helicopters as part of the mission.
French Foreign Minister Alain Juppe said on May 23 that French and British attack helicopters would be deployed as part of the mission.
Juppe said the attack helicopters -- capable of firing air-to-ground missiles -- would "better tailor" NATO's ability to strike targets on the ground and "allow more accurate hits."
Britain's' armed forces minister, Nick Harvey, told Parliament today that the deployment of attack helicopters was being considered but "no decision" had been made yet.
But the use of helicopters carries risks for NATO, as they would fly lower than warplanes and be more exposed to ground fire. There are concerns that the downing of a NATO helicopter could draw alliance ground forces into rescue efforts.
Critics are questioning the extent to which the deployment of the French attack helicopters could signal that NATO is broadening its goals -- and whether it means the alliance is now actively seeking to target Qaddafi himself.
Thinking 'Post-Qaddafi'
Led by France, Britain, and the United States, NATO warplanes have been bombing Libya since March when the United Nations authorized "all necessary measures" to protect civilians from Qaddafi's forces in Libya's civil war.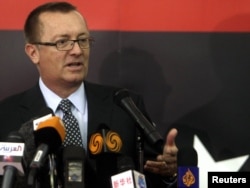 U.S. Assistant Secretary of State Jeffrey Feltman in Benghazi
U.S. President Barack Obama and British Prime Minister David Cameron wrote in an opinion column published by "The Times" newspaper of London today: "We have degraded [Qaddafi's] war machine and prevented a humanitarian catastrophe. And we will continue to enforce the UN resolutions with our allies until they are completely complied with."
Meanwhile, U.S. Secretary of State Hillary Clinton told a London news conference on May 24 "time is working against Qaddafi" and that he cannot reestablish control over the country."
Clinton also said the opposition had organized a legitimate and credible interim council that was committed to democracy. She said the opposition's military forces "are improving and when Qaddafi inevitably leaves, a new Libya stands ready to move forward."
A senior official from the U.S. State Department who is on a three-day visit to the rebel-controlled eastern Libyan city of Benghazi said today that envoys from the Libyan opposition have accepted an invitation to open a representative office in Washington.
U.S. Assistant Secretary of State for Near Eastern Affairs Jeffrey Feltman made the announcement today after talks with the rebels' National Transitional Council.
Fighting Continues
NATO insists it has taken the initiative in the Libyan war and that Qaddafi's troops are no longer in a position to mount decisive attacks on rebel forces.
NATO officials in Brussels contend that although fighting is continuing around the country, the pressure has been relieved on key rebel-held towns in eastern Libya.
But fighting has continued between Qaddafi's forces and rebels in the Berber highlands of western Libya. In particular, Qaddafi's troops during the past week have been using heavy artillery to shell positions in and around the western town of Zintan.
Correspondents in western Libya say the artillery attacks against opposition-held towns during the past week have resulted in fresh waves of refugees fleeing across the nearby border with Tunisia.
compiled from agency reports