The popular uprising that swept Tunisia's longtime leader from power last week is sending ripples across other regions known for their autocratic rulers.
Following President Zine al-Abidine Ben Ali's ouster amid street protests, people in Central Asia, Azerbaijan, and Iran, have started to draw parallels between the situation in Tunisia and in their own countries.
To be sure, popular reaction is nowhere near the scale of that in places closer to Tunisia, like Egypt, where activists have been using social media to urge copycat protests.
But with most Central Asian presidents of a similar vintage to Ben Ali -- who had ruled Tunisia since 1987 -- people writing to RFE/RL's language services are pointing out some similarities, and voicing hope their rulers will go the same way.
"Just like us! Those in Tunisia are in the same situation like us, Azerbaijanis," writes Baku resident Natiq Cavadli in a comment on RFE/RL's Azeri-language website,
azadliq.org
.
"The Tunisian scenario could be repeated in Turkmenistan, too," a reader called "Makhmal" writes to
azathabar.com
, RFE/RL's Turkmen-language website. "If Turkmen leaders don't want the repetition of the Tunisian events in our country, they should take measures to improve the situation here."
Azerbaijan and Turkmenistan -- along with Ashgabat's neighbors in Central Asia -- are notorious for their autocratic, long-ruling presidents, who run their countries with an iron fist while their family members frequently have control over their country's wealth.
Wake-Up Call
"Jomi" from Dushanbe hopes the overthrow of Ben Ali by popular uprising sends a message to people throughout Asia and Africa that "no one can stay in power indefinitely."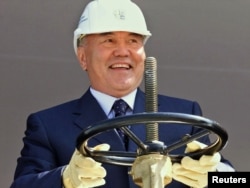 Kazakhstan's Nursultan Nazarbaev -- irreplaceable leader of the nation?
"First it was Kyrgyzstan, now Tunisia became the second and time will show who is going to be the third," writes "Jomi" to RFE/RL's Tajik-language website,
ozodi.org
. "Unfortunately, most leaders in Asia and Africa have opted for unjust ruling.... [Tunisia] should teach them a lesson."
"Wake up Central Asia!" writes "Kanatbek" from Bishkek on RFE/RL's Kyrgyz-language website,
azzattyk.kg
.
"Abdulloh" who introduces himself as an Uzbek living in Russia, writes on RFE/RL's
ozodlik.org
website that Uzbek President Islam Karimov -- who's been in power since 1989 -- could meet a similar fate to Ben Ali.
"God willing, dictator Karimov who is ruling Uzbekistan illegally and despotically will end up like this. The day will come when he will pay for all the injustices he subjected his people to."
Ominous Sign?
Ben Ali's ouster coincided with the Kazakh parliament approving amendments to the country's constitution that will pave the way for President Nursultan Nazarbaev's term in office to be extended until 2020.
Like his Tunisian counterpart, Nazarbaev -- dubbed by his supporters the irreplaceable leader of the nation -- has been in power since the late 1980s. And like Ben Ali, Nazarbaev's family members and relatives are known for their lavish lifestyle and for exploiting their influence to accumulate enormous wealth.
Many readers of RFE/RL's Kazakh-language website,
azattyk.org
, warn that the Tunisian events should serve as a wake-up call or even be taken "as an omen for Nazarbaev to put things right before they begin to turn wrong."
An azattyk.org reader who gives no name writes: "The president of Tunisia pathetically fled his country after ruling it for 23 years -- like Nazarbaev, without giving a chance to others. It happened during people's protests against corruption by the regime. Do you see similarities here?
"And there is another similarity in the length of their term in office. Tunisia was hailed as the most advanced country in Africa and its president as an irreplaceable leader."
We've Been There
Kyrgyzstan saw its autocratic President Kurmanbek Bakiev -- criticized for corruption and nepotism -- deposed by street protests last April. "Kyrgyz," a reader of RFE/RL's azattyk.org from Bishkek, writes proudly: "Our revolution is spreading to the rest of the world. Justice will prevail. Down with corruption. We have to continue our path until the end!"
But "Mekentash" from Bishkek sounds a note of caution and offers a word of advice to Tunisians:
"Overthrowing a regime is only the beginning. The most important thing is to build a stable and prosperous nation. If you are not careful, you'll fail in the very first elections. You will see the ousted president's close people come back to power. Look at our experience in 2010 and learn a lesson."
Events in Tunisia have also been closely watched in Iran, which saw its own mass street protests following the disputed presidential election in June 2009.
Despite nationwide demonstrations against alleged electoral fraud, President Mahmud Ahmadinejad has remained in office. An Iranian commenter who gives his name as "zid-e Islam" writes to RFE/RL's
radiofarda.com
that he hopes Tunisians will have a better outcome.
"I congratulate the Tunisian nation from the bottom of my heart," the writer says. "I hope democracy will win in this Arab country, so we could see a first example of true democracy in the Arab world."