Tunisian President Zine el-Abidine Ben Ali has fled the country and the North African state's prime minister has said he will serve as interim leader in a shakeup brought about by what some are calling the "Jasmine Revolution."
Saudi Arabia announced overnight that Ben Ali and his family had arrived in the kingdom. French reports suggested Ben Ali's plane was first denied permission to land in France.
"Since the president is temporarily unable to exercise his duties, it has been decided that the prime minister will exercise temporarily the duties," Prime Minister Mohammed Ghannouchi said in an announcement on state television.
Ghannouchi called on Tunisians to "demonstrate patriotism and unite" and pledged to respect the constitution and enact political, economic, and social reforms.
An overnight curfew was said to have been lifted but authorities continued to try to prevent lawlessness.
It was unclear how disgruntled Tunisians would respond to the handover, since many were likely to identify Ghannouchi -- a man who has served as prime minister for more than a decade -- as part of the problem.
President Flees As Protests Rage

As violent clashes between security forces and thousands of protesters continued in the capital, Tunis, the embattled president escaped the country on the afternoon of January 14.
Ahead of his departure, troops surrounded the country's main international airport, Tunis Carthage.
Earlier in the day, Ben Ali had declared a nationwide state of emergency, imposing a curfew, banning public gatherings, and allowing arms to be used by security forces if orders were not obeyed.
The president had also dismissed the government and announced that early elections would be called within six months.
That announcement came as mass rally calling for the country's long-time leader to resign descended into violence as police used tear gas against protesters. There were also reports of live fire being used.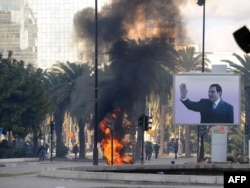 Smoke rises from fire left after clashes between security forces and demonstrators in Tunis today.
Meanwhile, international observers called for restraint and condemned the violence.
The demonstration came despite Ben Ali's promise to introduce new freedoms and step down after his sixth term in office expires in 2014.
But the protesters demanded that the 74-year-old president and his entourage, widely blamed for the nation's rampant unemployment, corruption, and political repression, go now.
A banner read "We won't forget," a reference to the dozens of civilians killed since the protest erupted in mid-December.
Several lawyers in black robes present at the rally -- including Radia Naceraoui -- made emotional appeals against Ben Ali's regime.
"It's all misery, prison, torture, repression, unfair trials! I'm a lawyer, I've been assaulted countless times. I see traces of torture every time I visit people held in Tunisian prisons. People are sentenced to dozens of years in jail simply for their opinions. People have died under torture at the Interior Ministry," she said.
Promises Not Enough

Ben Ali, who has ruled Tunisia with an iron fist for more than 23 years, on January 13 bowed to pressure in a bid to quell weeks of unrest that have now killed at least 70 civilians.
Looking repentant in his third televised address since the start of the protest wave that began about a month ago, the embattled president urged a return to calm and promised a free media, as well as lower prices for food staples such as bread, milk, and sugar.
"I understood you, I understood all of you -- heroes, poor people, politicians. I understood that you need more freedoms, but the events we witnessed today in our country are unacceptable. Demolition and violence is not a tradition of Tunisians," he said.
After the speech, elated Tunisians had poured into the streets of the capital to celebrate their president's unprecedented pledge for new freedoms following weeks of deadly riots.
The assurances, however, did not stop many from continuing their protests today.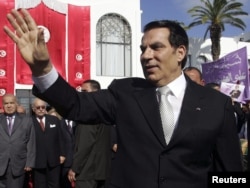 Zine el-Abidine Ben Ali had ruled Tunisia virtually unchallenged since 1987.
Rising food prices have been one of the protesters' main grievances, along with a crippling lack of jobs for young university graduates and anger at a leadership many see as controlling and corrupt.
The demonstrations, which started in the provinces but reached the capital this week, were sparked by the suicide of a 26-year-old unemployed graduate who set himself on fire to protest the confiscation of his license to sell fruits and vegetables.
Fearing more violence, a number of countries have advised their citizens against traveling to Tunisia, a move that could hurt the nation's lucrative tourism industry.
The violence has spread to Tunisia's popular beach resorts, with angry demonstrators damaging a police station and several holiday villas Thursday in the high-end Mediterranean resort of Hammamet.
British tour operator Thomas Cook today started evacuating thousands of tourists from the country as a measure of precaution.
Flights to Tunisia from several countries, including Germany and Britain, have been cancelled until the end of the week.
Until the recent unrest, Western leaders had praised Tunisia as a model of stability in the Arab world. Ben Ali had ruled virtually unchallenged since coming to power in a bloodless coup in 1987.

compiled from agency reports