ISTANBUL -- On the first day of his visit to Egypt, the Turkish Prime Minister Recep Tayyip Erdogan addressed foreign ministers of the Arab League. He started his address with a few words in Arabic before reaching out to all Arab people with a warning.
"We should not have daylight between Arabs and Turks," he said. "We have to be careful against secret powers that will try to divide us. We are extending a hand of friendship to all those who need help."
Erdogan made a thinly veiled criticism of Western countries, saying Turkey's hand of friendship is not motivated by the underground wealth of countries but rather its shared brotherhood and historical past.
By shared past, Erdogan was referring to when Ottoman Turkey ruled Egypt and the wider region. The Turkish prime minister has been keen to redevelop those close relations.
Erdogan also used his speech to launch another attack on Israel. He strongly condemned the Jewish state for last year's killing of Turkish activists by Israeli forces during the seizure of boats seeking to break its economic blockade of Gaza.
"While Israel is trying to legitimize its existence, it is at the same time taking irresponsible steps that damage its own legitimacy," he said.
"The aggressiveness of Israel went beyond the limit by having the military attack in international waters."
"[They attacked a] convoy that was carrying only humanitarian aid, including children's playground [equipment] and toys. The Israeli government's aggressive policies are threatening the future of Israel."
Palestine 'Is A Humanitarian Issue'
The failure of Israel to meet Ankara's demands for an apology over the killings, compensation for the families of those killed, and the lifting of the Gaza blockade has seen a collapse in bilateral relations.
In his speech on September 13, Erdogan went on to strongly advocate the Palestinian cause and its desire for statehood.
"This cause is not only the cause of Palestinians, it is the cause of all the states who care for law and humanity," he said. "This is a humanitarian issue, a decades-long issue. Chaos will deepen as long as Gaza is in this situation.
"The only correct path is to recognize an independent 'Palestinian' state. It will be possible to see Palestine in a different light in the UN in the very near future. We have to act hand in hand with Palestine."
The Palestinian Authority is expected later this month to petition the United Nations for statehood recognition. Israel strongly opposes such a move, a stance that observers say will likely be supported by the United States.
Turkey 'Wants To Be Regional Power With Global Aspirations'
Turkey's strong support for the Palestinians is aimed at building up its influence across the Middle East -- a moved aimed at Jerusalem, according to Soli Ozel, a Turkish international relations specialist with Istanbul's Kadir Has University and a columnist for the "Haberturk" newspaper.
"There is a power struggle [going on] over the eastern Mediterranean," he said. "Turkey wants to be a regional power with global aspirations.
The prime minister's tough stance against Israel undoubtedly plays well with much of Egyptian public opinion.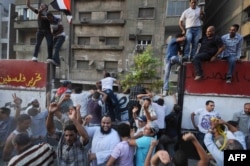 Tensions have been high in Cairo since the storming of the Israeli Embassy by demonstrators on the night of September 9-10.
Thousands of people greeted him at the airport during his arrival on September 12. Some held banners reading "Egypt and Turkey -- One Fist against Israel."
But that tough stance, observers say, may have put Egypt's new leaders in a difficult spot. Before he left, Erdogan indicated he wanted to visit Gaza through the Egyptian crossing at Rafa.
That hope appears to have been denied by the Egyptians. The Turkish prime minister subsequently confirmed he would not be visiting Gaza, but said he wants do so in the near future.
Erdogan was also scheduled to make a public speech in Cairo, but that was cancelled, reportedly for security reasons.
Tensions are high in Egypt following the attack last week by demonstrators on the Israeli Embassy. Cengiz Aktar, an international relations expert with Bahcesehir University, maintains that any public support for Erdogan needs to be put in context.
'New Equilibrium' In Eastern Mediterranean
"He will be cherished in the Arab street, but I don't think [it will be] more than that," he said. "At the end of the day, Egypt is there, and Egypt considers Turkey as a challenger, not a partner yet
Aktar added that Turkey could be a "positive and proactive: force in the "new equilibrium" that is forming in the eastern Mediterranean region, provided that it can avoid lecturing its neighbors in a "bombastic and overconfident" way.
According to research by the Turkish research company Tesevearlier this year Erdogan was the most popular leader in the Middle East earlier this year.
That popularity is predicted to increase as he continues his tour of North Africa, which will take him to Libya and Tunisia, returning to Turkey on September 16.
But, at the same time, observers warn that despite such popularity, memories of Ottoman Turkey being a formal colonial master of the region could well temper any aspirations by the Turkish prime minster to become a regional leader.
with agency reports