WATCH: Dramatic new footage has surfaced of the devastating blasts at a weapons depot in the Turkmen town of Abadan on July 7. Authorities now admit at least 15 people were killed. Reports from Turkmenistan indicate that the photographer was seriously injured in the blast. Unconfirmed reports say that he died in hospital.
Nearly a week after a deadly series of blasts outside the capital, Ashgabat, many in Turkmenistan still don't know the extent of what really happened as they await permission to return to their homes.
Turkmenistan is known as one of the most closed societies in the world, and the government quickly took steps to restrict information surrounding the incident.
An RFE/RL reporter described the scene in the suburban town of Abadan, where the explosion took place on July 7.
"I came to Abadan on July 9 to take pictures, but the police are strictly controlling everything," he said. "I was told that if the police officers found a camera during the control at the checkpoints, they would confiscate it. But I somehow managed to hide my camera and enter the city. I left the city through back roads."
Initially, the government denied reports of any casualties or major damage caused by the blasts, which were documented on video by Abadan residents. It took three days for the authorities to admit that 13 civilians and two military personnel had been killed.
That an arms depot was involved is the rare point where the government's line and eyewitness reports are in agreement.
According to eyewitnesses, the explosions occurred inside a large military depot. A government commission dealing with the consequences of the disaster found that "fire occurred as a result of very hot weather...[which] led to detonation of fireworks and their spreading to a larger territory, including an army warehouse with Soviet-era explosives."
Official Media Vs Social Networks
After that, the details become murkier. The government's death count of 15 contrasts sharply with reports in opposition and foreign media.
For example, the Austria-based opposition website Khronika Turkmenistana, citing local residents, puts the number of civilian deaths as high as 200.
State television has begun providing daily reports about the situation in Abadan, but the coverage is limited to officials' accounts on the recovery and rebuilding efforts.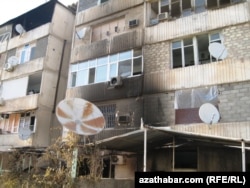 One of many buildings in Abadan damaged in the explosions.
Many residents have turned to the Internet or foreign media outlets for more detailed information, although access to the Internet is limited in Turkmenistan.
Others used satellite dishes to provide them with a line to foreign television media coverage. There, they can watch video clips taken on mobile phones that show the dramatic series of blasts that took place.
Social media sites contain photos showing half-burnt and heavily damaged buildings, including a school and residential apartments. Eyewitness accounts posted online describe the destruction and panic that followed the explosions.
Why Not Tell What's Happened?
Many Turkmen have learned not to rely on their own country's government-controlled media for news and information.
One woman in Abadan, who spoke to RFE/RL's Turkmen Service on condition of anonymity, said Turkmen television reports of minimal damage are in stark contrast to the mass destruction she and her family witnessed.
"Each time it exploded, it felt like an earthquake," the woman said. "There were cracks on the wall, doors were broken. Broken glass cut my 5-year-old daughter's hands. A door fell on my sister and broke her arm. She is now in hospital in the nearby town of Geok-Tepe.
"Many houses were burned. Houses caught on fire by ammunition scattered by the explosion. Only the four walls were left on some buildings; the rest were burned down."
Nurberdi Nurmammedov, an Ashgabat-based activist, said "people evacuated from Abadan are desperate to know the real situation on the ground, and it's vital to know whether it's safe to return home."
"There are rocket fragments and ammunition in the streets and even inside some houses, and this ammunition might explode and fatally injure people," Nurmammedov said.
One Abadan resident wrote to ferghana.ru that "it is hard to understand why the authorities don't want to admit in a dignified manner what happened in Abadan. After all, such incidents, sadly, happen everywhere in the world.
"Just acknowledge what happened, offer your condolences to victims' families, announce a national day of mourning to honor the dead, and provide financial support for the victims," he continued. "It will make things a lot easier to people when they know government holds itself accountable."