Turkmenistan has suspended the operation of MTS-Turkmenistan, the largest mobile-phone-service provider on its territory, leaving most of the country without mobile-phone communications and access to the Internet.
The Russian company informed its subscribers on December.20 that "all communication services will be temporarily halted."
On its website, MTS-Turkmenistan wrote it received notification from the Communication Ministry regarding the suspension of the company's license.
Elena Kokhanovskaya, Mobile TeleSystems' (MTS) public relations director in Moscow, said Turkmen authorities had not given any reason for their decision.
"We haven't received any explanation from the Turkmen side and we are waiting for clarification," Kokhanovskaya said. "We very much hope the issue will be resolved and any misunderstanding will be cleared up."
Window To The World
Officials in Ashgabat declined to comment on the move. However, regional media reported that MTS-Turkmenistan has been under pressure from the country's authorities who reportedly want to break its near monopoly of the mobile-phone market.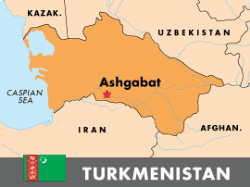 Last month, a large number of MTS SIM cards and some equipment were reportedly seized by Turkmen customs officials.
The company, which has operated in Turkmenistan since 2005, owns over 80 percent of the country's 2.5 million mobile-phone contracts. Turkmenistan's state-owned mobile-phone company, Altyn Asyr, had about 310,000 subscribers in 2009.
In 2008 -- after Turkmenistan's new President Gurbanguly Berdymukhammedov took tentative steps to open up the isolated nation -- MTS-Turkmenistan began to provide Turkmens with access to the Internet via mobile phones.
Prior to that, the Internet was available only to a handful of Ashgabat's elite -- and was virtually unknown in rural areas in the oil-rich Central Asian state of over 5 million.
MTS-Turkmenistan has 38 offices and more than 500 shops across Turkmenistan. The company has enabled residents of remote regions and rural areas to connect to the net.
Losing Out To The State?
According to MTS-Turkmenistan's website, the suspension might continue for up to one month. The company says it will do all it can to resolve the dispute as soon as possible and restore its services.
The company also sought to reassure customers that they would not lose the money they paid in advance for services and contracts. It said subscribers could get a refund if they want to terminate their contracts with MTS-Turkmenistan.
However, in a bid to keep its subscribers, the company has offered a 20 percent bonus for loyal customers willing to wait until the company's operation is restored.
RFE/RL's Turkmen Service correspondents report that some MTS-Turkmenistan subscribers were buying contracts with Altyn Asyr.
The continued absence of MTS-Turkmenistan from the country's communication sphere could leave the secretive state in further isolation.
State-run Internet providers, including Altyn Asyr, routinely block access to independent news sites and opposition websites.
written by Farangis Najibullah, with contributions from RFE/RL's Turkmen Service