Former Ukrainian Lawmaker Charged With Separatism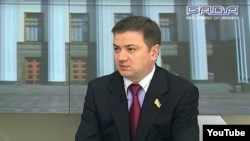 A court in Kyiv has formally charged a former Ukrainian member of parliament with providing support to Russia-backed separatists in the east of the country.
The Pechera District Court in the Ukrainian capital on August 8 also ordered Volodymyr Medyanyk to be held for two months in pretrial detention.
According to the court, the case against Medyanyk is linked to the July 30 arrest of the former leader of the pro-Russia Party of Regions, Oleksandr Yefremov.
Yefremov is now on trial in Kyiv on charges of financially supporting Russia-backed separatists in the eastern Ukrainian region of Luhansk.
Fighting between Ukrainian government forces and Russia-backed separatists in the eastern regions of Luhansk and Donetsk has killed more than 9,500 people since April 2014.
Based on reporting by UNIAN and Interfax