Ukraine PM: 'Civilized World' Won't Recognize Crimea Referendum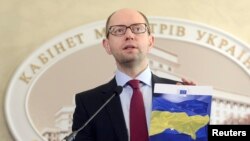 Ukrainian Prime Minister Arseniy Yatsenyuk has said that the world will not accept the results of a "so-called referendum" on Crimea joining Russia, as top Russian officials expressed strong support for such a move.
Yatsenyuk spoke on March 7 in Kyiv, a day after the Crimean parliament voted in favor of the region becoming part of Russia and scheduled a referendum for March 16.
"No one in the civilized world will recognize the results of a so-called referendum carried out by these so-called authorities," Yatsenyuk said.
Yatsenyuk said that Ukraine is ready for talks with Russia, but that Moscow must withdraw its troops from Crimea and stop its support for "separatists and terrorists."
"We have clearly declared our readiness to hold talks with the Russian government. But in order for that to happen, our Russian neighbors have to become [our] Russian partners," Yatsenyuk said.
"Firstly, they have to withdraw [their] troops; secondly, fulfill the bilateral and multilateral agreements that Russia has signed; thirdly, to halt support for the separatists and terrorists who are on the territory of the Autonomous Republic of Crimea."
LIVE BLOG: Ukraine In Crisis
Yatsenyuk said he had requested a second phone call with Russian Prime Minister Dmitry Medvedev. Their first phone conversation on March 1 has been the only high-level contact between the two countries since the crisis began.
Meeting With Crimea Leader
In Moscow, the heads of both of Russia's parliamentary chambers met with the leader of Crimea's parliament, Vladimir Konstantinov.
Sergei Naryshkin, the speaker of the State Duma, said after the meeting that the lower house will respect the Crimeans' "historic choice."
"We realize that this decision was made as a result of the acute political crisis that is taking place in Ukraine, and it is connected with the effort to ensure the rights and freedoms of citizens, simply to protect human lives," Naryshkin said.
Valentina Matviyenko, the head of the upper chamber, the Federation Council, said the Crimean parliament has the "right" to hold a plebiscite on the region's future status.
"If the people of Crimea make the decision in the referendum to join Russia, we, as the upper house of the parliament, will unconditionally support such a decision," Matviyenko said.
WATCH: Simferopol Residents Rally For Ukrainian Unity
Russian news agency ITAR-TASS quotes Konstantinov as saying that not only Crimea should "be reunified with Russia, but the whole of Ukraine."
On March 6, U.S. President Barack Obama spoke by telephone to Russian President Vladimir Putin about the crisis in Ukraine.
According to the White House, Obama told Putin Russia's actions in Crimea violate Ukraine's sovereignty and outlined a plan under which Russia would pull back troops to bases in Crimea, allow international monitors in to ensure the rights of ethnic Russians are respected, and consent to direct talks with Ukraine officials.
The Kremlin said the conversation with Obama revealed "differences in approaches" but said Putin told Obama bilateral relations should not suffer over Ukraine.
Reuters, meanwhile, quotes an aide to the head of Ukraine's border guards service, Serhiy Astakhov, as saying Russia now has an estimated 30,000 troops in Crimea, nearly twice the previous figure given by the government in Kyiv. Astakhov said that includes both troops who have arrived since last week and Russia's Black Sea Fleet.
Normal Russian troop levels at Black Sea Fleet facilities in Crimea historically have been about 11,000.
Russia says the extra troops are not Russia military personnel but are local "self-defense" forces."
With reporting by Reuters and Interfax