KYIV -- The two opposition factions in Ukraine's Verkhovna Rada have called for the dismissal of the parliament speaker and an investigation by the Prosecutor-General after a bloody brawl that erupted in the parliament chamber on December 16.
The opposition deputies made their appeal today before walking out of the parliament session.
The brawl saw lawmakers from President Victor Yanukovych's Party of Regions storm the parliament podium, which was blocked by deputies from former Prime Minister Yulia Tymoshenko's Fatherland party.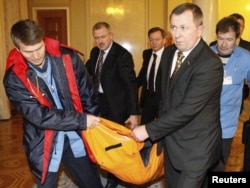 Deputies and paramedics carry away an injured member of parliament.
The pro-Tymoshenko deputies had been protesting a criminal probe against her on suspicion of abuse of office.
According to the Fatherland faction press service, six opposition deputies were injured in the ensuing fight, of whom five had to remain in hospital overnight.
One of those injured was Mykhailo Volynets, who was carried out of the building on a stretcher with head injuries.
"First, they punched me in the face," Volynets said in a telephone interview with RFE/RL's Ukrainian Service from his hospital bed. "I walked away because my face was streaming with blood.
"Deputy [Petro] Tsurko from the Party of Regions grabbed a chair. He was standing above me, one meter higher. He is big, tall, with long arms, and took this heavy chair and then smashed it over my head with all his might, breaking the chair."
But Tsurko told journalists that he did not intend to injure Volynets. He said he simply took the chair away from somebody who wanted to hit him and threw it aside. Tsurko blamed the opposition for triggering the fight.
Party of Regions faction chairman Oleksandr Yefremov told a press briefing in the parliament today that his faction was ready for compromise and first tried to convince its opponents peacefully.
But he said his deputies were then "forced" to unblock the parliament, which is due to adopt next year's budget and other important laws.
"After we ascertained that their colleagues had brought chains and [keys] into the parliament," Yefremov said, "we understood that the situation could become absolutely unpredictable. Thus we were forced -- I will repeat, forced -- to take some actions in order to unblock the chamber and adopt laws which our state needs."
Prosecutor-General's Office spokesman Yuri Boychenko told RFE/RL today that the Kyiv city prosecutor has launched an investigation, the preliminary results of which may be available by the end of the day.
Parliament speaker Volodymyr Lytvyn today showed chains and iron bars that he said were brought into parliament on December 16. He claimed some deputies even threatened to use those weapons.
Yanukovych today condemned the violence and called on politicians of all factions to "raise the level of political culture."
This is not the first scuffle in the Ukrainian parliament.
In April 2010, the Verkhovna Rada
erupted in chaos
with some deputies hurling smoke bombs and eggs after lawmakers approved a controversial deal to extend the Russian Navy's right to use the the Sevastopol naval base.