Long-simmering political tensions in Ukraine have resurfaced again recently, as soccer fans in Kyiv have taken to taunting their eastern countrymen in ribald, irreverent verse.
Off-color versions of terrace chants have been heard at Dinamo Kyiv's ground in the past few weeks with home fans sarcastically "thanking" residents of the eastern coal-mining Donbas region for a "president-pederast" in reference to President Viktor Yanukovych, who hails from Donetsk Oblast.
In other chants, they thank Donbas for "prosecutors and judges," for "trading Crimea for a discount on gas," for "golden toilets," and for "plagiarism."
As the "Thank You, Residents of Donbas" meme has grown in popularity, a Kyiv business called ProstoPrint has begun producing T-shirts and other memorabilia featuring the slogans.
In recent days, the firm has been subjected to searches by law enforcement officials, some of its property has been confiscated, and its employees have been called in for questioning.
Tensions rose another notch on September 15 when some 1,000 people gathered in Kyiv's central Independence Square for what ProstoPrint described as a charity street market.
The company intended to sell the controversial products to raise money to cover the expenses incurred as a result of the police attention and promised to use part of the proceeds to support "political prisoners" in Ukraine.
However, scuffles broke out in the crowd and police briefly confiscated many of the items on offer.
Anonymous Threats
"At first the city authorities approved the event as a charity market," says ProstoPrint Director Dmytro Oleinykov. "But then they called and said that we can display the goods, but we cannot sell them. They were only authorizing a mass gathering "
"What their motivation was -- I can't say. We received anonymous threats both by telephone and in social media. Not about the Independence Square thing, but generally that we are bad people and are getting involved in something that is none of our business."
Oleinykov also alleged that ProstoPrint employee Halyna Redko had been threatened with rape by police interrogators and said some of the proceeds from the September 15 sale were intended to provide her with legal support.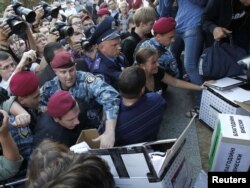 Ukrainian police attempt to confiscate controversial t-shirts and other merchandise on sale in Kyiv's Independence Square.
No injuries were reported during the fisticuffs. Oleinykov told RFE/RL that he had been informed by a police official during the market that his goods were being confiscated because they lacked proper documentation. Oleinykov said the documents had been seized by police during an earlier raid.
According to police spokesman Volodymyr Dmytrenko, the police are interested in ProstoPrint only because of allegations the firm is illegally reproducing the logo for the 2012 European football championship, which will be jointly hosted by Ukraine and Poland.
"Following an inquiry by the official representatives of UEFA [the Union of European Football Associations] regarding the distribution of symbols from the Euro-2012 tournament without licensing, we searched the firm," he says. "A criminal case has been opened following the discovery of products with the symbols."
ProstoPrint says responsibility for possible copyright infringement lies with those who place an order, and Oleinykov says he suspects that police ordered the UEFA T-shirts themselves as a provocation.
UEFA representatives confirmed to RFE/RL that they do monitor alleged copyright infringement regarding the Euro-2012 symbols, but declined to discuss specific cases.
Authorities 'Reacting Out Of Fear'
Regarding the alleged threat of rape and other complaints, Dmytrenko added that the firm is free to make any complaints regarding the police to the Prosecutor-General's Office according to established legal procedures.
Andriy Korenevsky, an organizer of a Dynamo Kyiv fan's association, maintains that members of his group have been pressured by police since the "Thank You, Residents of Donbas" chanting began.
"They don't ask us directly about the slogan," he says. "They call people in, interrogate them, look at the contacts in their mobile phones. They call this 'preventive work.' You could view this as pressure that is being applied because of the antipresidential slogans."
Kyiv-based political analyst Kostyantyn Matvienko believes the authorities are reacting to the campaign out of fear.
"The authorities are reacting reflexively," he says. "They can't ignore it -- they are nervous. Why? Because they have nothing to offer society. Living standards are falling, and the unified quality of the authorities is eroding."
"Even apolitical gatherings are dispersed. Because they are obsessed with every manifestation of popular discontent."
with contributions from Robert Coalson in Prague