BRUSSELS -- An aide to Angela Merkel says the German chancellor is prepared to boycott Germany's matches in Ukraine during the Euro 2012 soccer championship this summer if no improvement is seen in the case of jailed former Prime Minister Yulia Tymoshenko.
Georg Streiter said that any travel plans by Merkel are "conditional on the fate of Ms. Tymoshenko and conditional on the rule of law in Ukraine."
EU foreign policy chief Catherine Ashton and European Commission President Jose Manuel Barroso have also indicated they are prepared skip all Euro 2012 matches in Ukraine because of mounting concern over Tymoshenko, the former heroine of the 2004 Orange Revolution and runner-up to Viktor Yanukovych in a 2010 presidential race.
Spokeswoman Pia Ahrenkilde Hansen told reporters in Brussels on April 30 that Barroso has no plans to travel to Ukraine unless officials in Kyiv take steps to address the "very, very serious situation" involving Tymoshenko.
"It is clear that as things stand now, [Mr. Barroso] has no intention of going to Ukraine or participating in events in Ukraine at this point in time," Ahrenkilde said.
Viviane Reding and Stefan Fuele, the EU's justice and enlargement commissioners, have likewise called off travel plans to Ukraine, which is co-hosting the Euro 2012 championship with Poland.
Dennis Abbott, the spokesman for Androulla Vassiliou, the EU education, culture, and sports commissioner, said Vassiliou might travel to matches in Poland but would steer clear of Ukraine as long as the human rights situation there remains unchanged.
"If the current situation stands, this situation regarding human rights in Ukraine, and in particular the situation regarding the treatment of Mrs. Tymoshenko and other opposition figures, then the commissioner [Androulla Vassiliou] feels that it would be entirely wrong to go to Ukraine," Abbott said.
PHOTO GALLERY: After visiting Tymoshenko in jail, Ukrainian Ombudsman Nina Karpachova released pictures that appear to show bruises on the former prime minister's body. Tymoshenko claims she received the injuries after prison guards forcibly took her to a clinic last week for treatment.
​
The mounting calls for a boycott come amid claims by Tymoshenko that she has been beaten by prison guards in the Kharkiv prison where she is serving a seven-year sentence for abuse of office in a case that she and many rights activists say is politically motivated.
Tymoshenko, 51, has also declared a hunger strike and has repeatedly refused medical treatment for severe back pain related to a herniated disk.
A new trial against her on charges of tax fraud allegedly committed during the 1990s began on April 19.
The European Union and the United States say they also believe the pro-Western Tymoshenko's jailing last autumn was politically motivated, and have called for her release.
Summit Cancellations
The presidents of Germany, Austria, Italy, the Czech Republic, and Slovenia have all canceled their participation in a regional summit that is due to be held mid-May in Ukraine's Black Sea peninsula of Crimea.
Ukraine's Foreign Ministry responded to the controversy over Tymoshenko and Euro 2012 on April 30, warning European critics against adopting "Cold War" strategies and "making sports a hostage of politics."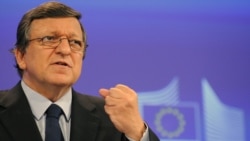 European Commission President Jose Manuel Barroso
Foreign Ministry spokesman Oleg Voloshyn said a possible boycott of the tournament by EU leaders would amount to "artificial manipulation."
Security setbacks have also dogged Ukraine's preparations for the Euro 2012, which is the first major international event hosted by the country since its independence from the Soviet Union.
A series of bomb explosions on April 27 in the eastern industrial city of Dnipropetrovsk have raised fears of poor police control ahead of the championship.
Martin Kallen, the tournament's director for the European football organizing body UEFA, on April 30 told Germany's "Sueddeutsche Zeitung" daily that it was too late to move Ukraine's Euro 2012 matches to another country.
If the situation becomes too dangerous, he said, UEFA could consider postponing the tournament to another year.
With reporting by Rikard Jozwiak from Brussels and additional reporting by AFP, dpa, CTK, Lidove noviny, and Interfax