UN Secretary-General Ban Ki-moon has called for an immediate cease-fire in Libya as forces loyal to Muammar Qaddafi continue shelling rebel-held Misurata, the country's third-largest town.
Misurata is the only rebel-controlled town in the west of the country and has been under siege from Qaddafi's forces for the past seven weeks.
Speaking in Budapest on April 18, Ban called for an "immediate, effective cease-fire" and said it was "absolutely necessary that Libyan authorities stop fighting and killing people."
Ban also called for a political solution to the conflict, adding that the UN would open a humanitarian mission in Tripoli.
A rebel spokesman said at least 17 people were killed in shelling in Misurata on April 17, and about 100 wounded.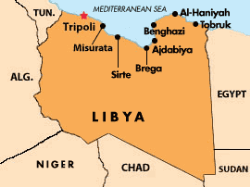 The International Organization for Migration (IOM) warned that the vast numbers wanting to flee Misurata was threatening to overwhelm an international sea rescue operation.
The IOM said nearly 1,000 stranded people had been evacuated on April 18, but that thousands more were awaiting rescue in increasingly perilous circumstances.
The International Committee of the Red Cross (ICRC) said today it had helped 618 migrants leave Misurata today as the fighting in the city continued.
The evacuees included Sudanese, Chadians, Egyptians, and Moroccans, all of whom had been stranded for weeks without proper shelter or sanitation.
The ICRC added that it is sending another ship which is due to arrive at Misurata on April 20 with medical supplies, hygiene kits, food items, and 8,000 liters of drinking water.
Meanwhile, Libyan rebels said today they had gained significant ground on Misurata's bitterly contested Tripoli Street, following hours of fighting that had left several people dead or wounded.
Qaddafi's forces also continued their offensive on the eastern town of Ajdabiya.
One month ago, the UN Security Council authorized "all necessary measures" to protect civilians from attacks by Qaddafi's forces, leading to an international air campaign.
Despite NATO air strikes, however, the rebels have been unable to hold gains in the weeks of fighting.
compiled from agency reports