UNITED NATIONS -- The UN Security Council will take up the issue of piracy on the high seas today, at the urging of China and Russia, two of the council's permanent members
In the special session, Secretary-General Ban Ki-moon will address the latest developments.
Moscow has circulated a draft resolution urging the council to begin consultations on creating two new prisons and three separate courts to try pirates. Russia has also called on other UN member states to enact and enforce laws criminalizing piracy.
To date, the council has passed several resolutions on Somali-based piracy, including a 2008 authorization for foreign warships to patrol within Somalia's territorial waters -- a zone known for its piracy-related activity.
In 2009, the council also created a contact group on piracy to coordinate political, military, and other efforts to stop piracy off the Somali coast.
The Costs Of Piracy
Jack Lang, a former French foreign minister who now advises the UN on piracy, warned in a January report that the problem has spiraled out of control.
According to Lang's calculations, Somali-based piracy costs the world $7 billion annually when things like million-dollar ransom payments, skyrocketing insurance rates, ship protection, and lost merchandise are factored in.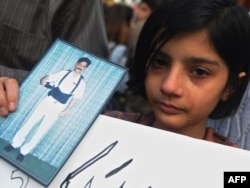 A Pakistani girl holds a picture of her father, who is being held by Somali pirates, during a demonstration in Karachi on March 1.
In 2010, pirates launched 286 reported attacks, hijacked 67 vessels, and took 1,130 hostages -- along the way collecting more than $240 million in ransom payments.
This year is already on track to surpass those numbers. The recent murder of four Americans is an ominous sign that the pirates are becoming more violent.
No Will To Prosecute

Commander James Kraska of the U.S. Naval War College in Newport, Rhode Island, tells RFE/RL that the international legal framework on piracy is clearly established but the problem is in its implementation -- specifically, how to prosecute pirates.
"States from outside the area have not wanted to jump at the ball, have not really cared to do the prosecution, for a variety of reasons," Kraska says.
China, which is the president of the Security Council this month, firmly supports the Russian initiative and is calling for a coherent international strategy on piracy.
Chinese merchant ships have had their own encounters with pirates off the Somali coast and Beijing is resolute on developing and implementing a coordinated multinational antipiracy strategy.
Moscow's draft resolution follows UN adviser Lang's report, in which he said nine out of 10 captured pirates are eventually released because there is no capacity or political will to prosecute them.
Russia is pushing for the establishment of three courts -- two in Somalia and one in neighboring Tanzania -- to try pirates, and for the construction of two additional prison facilities to incarcerate them.
Jon Huggins, who is the Oceans Beyond Piracy project manager at the One Earth Future think tank in Louisville, Colorado, says that if the UN is looking toward the "rule-of-law" solution, it needs to be more than just arresting and prosecuting pirates on the skiffs, who represent the lowest rung of the piracy culture.
"What is going to be the political will to go ashore and try to stop some of these financial flows, and financiers of piracy, and also the pirate leaders that never get into the skiffs? Because how can you be effective just continuing to arrest the foot soldiers, which are easily replaceable?" Huggins says. "So I think the solution lies in having that political will to prosecute these leaders ashore."
In the last two years, some countries have begun more actively to prosecute pirates but many others remain reluctant to do so.
The United States is currently prosecuting Somali pirates in four separate cases. France and Denmark, who in the past have released pirates, have now begun to prosecute them. Kenya has prosecuted more pirates than all other countries combined.
Clan-Based Structure
If the courts proposed in the Russian draft are eventually established, the Naval War College's Kraska says it is reasonable to expect that they will function with efficiency because they will be provided with solid financial and technical assistance from the Western powers, China, and Japan.
The prosecution of pirates is a positive development, he says, but is only a short-term solution.
"The long-term solution, I think everybody agrees," Kraska says, "is in Somalia, stabilizing the three regions of Somalia, especially Puntland, which is where most of -- actually pretty much all of these pirates -- come from."
A fundamental issue, he says, is that the piracy has emerged from Somalia's clan-based structure and that for Somalis, their entire life, family, and loyalty revolve around the clan.
"The clans are not causing piracy," he says. "Rather, the clans are a potential counterweight to containing and restricting piracy. And so I think that we ought to work more so with the clans -- we've already been doing so -- and co-opt the clans."
For that reason, he says, the UN, which would normally take a nation-state approach toward a problem, has a better chance of success if it works directly with the clans.