(RFE/RL) -- Turkish Prime Minister Recep Tayyip Erdogan has threatened to expel thousands of Armenian immigrants from the country, amid ongoing tensions over the World War I-era mass killing of Armenians by Turkish forces.
Erdogan said the presence of an estimated 100,000 Armenians currently living in Turkey without citizenship may no longer be tolerated.
The comment to the BBC's Turkish-language service during a visit to London on March 17 follows resolutions by U.S. and Swedish lawmakers branding the mass killing of Armenians by Ottoman Turks as "genocide."
Asked about the resolutions and referring to non-Turkish Armenian citizens working in Turkey, Erdogan said, "If necessary, I will tell them, 'Come on, back to your country'...I'm not obliged to keep them in my country."
Armenian officials criticized the comments.
Armenian President Serzh Sarkisian
Prime Minister Tigran Sarkisian said such statements "do not contribute to the improvement of relations."
"I think it's a violation of human rights," Armenian Diaspora Minister Hranush Hakobian told RFE/RL's Armenian Service. "No one has the right to force anyone to choose a place for living. This is an absolute human rights violation.
"And secondly," Hakobian continued, "I think this is yet another statement that we are accustomed to hearing, a groundless statement. The Armenian diaspora did, does, and will continue to struggle for [publicizing] the genocide, including in the Republic of Armenia."
However, Justice Minister Gevorg Danielian said Erdogan's comment was an empty threat. "These are simply statements of a political nature that can never become a reality," Danielian said. "There is not even a need to think what our state position will be on this account."
'Remind The Public'
Suat Kiniklioglu, foreign-affairs spokesman for Turkey's ruling Justice and Development Party, also played down Erdogan's words, saying he felt the need to "remind the public" about Armenians living in Turkey. The Reuters news agency quoted Kiniklioglu as saying Erdogan was "not talking about something that would happen today or tomorrow."
Forced to leave their impoverished country to earn a living, the majority of Armenians in Turkey work in Istanbul. Many of them are women who work illegally and send remittances home.
It's unclear how many there are. A study by the Eurasia Partnership Foundation showed that there are between 12,000 and 13,000 Armenian citizens working illegally in Turkey. The results of the study were published by the Turkish newspaper "Zaman" in December 2009.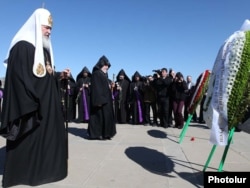 Russian Orthodox Patriarch Kirill at the Tsitsernakaberd genocide memorial in Yerevan today
Erdogan also said the recent U.S. and Swedish moves could further damage an already troubled process aimed at improving ties with neighboring Armenia, saying, "Those actions unfortunately have a negative impact on our sincere attitudes."
He added: "Those people make shows with those resolutions...and they harm the Armenian people, as well. And things become deadlocked."
In October 2009, Turkey and Armenia signed an accord aimed at normalizing bilateral relations following a century of hostility. But the two countries' parliaments have not yet approved the accord and the two governments have accused each other of lacking commitment to the deal.
'Just A Shield'
Armenian Foreign Minister Eduard Nalbandian on March 16 described Turkey's claims that the genocide issue was hampering the normalization process as "just a shield" aimed at covering up Turkey's own obstruction.
Erdogan blamed the resolutions on the Armenian diaspora in the United States and Western Europe, and called on foreign governments to avoid being influenced by their lobbies.
"Armenia has an important decision to make," Erdogan said. "It should free itself from its attachment to the diaspora. Any country which cares for Armenia -- namely the United States, France, and Russia -- should primarily help Armenia to free itself from the influence of the diaspora."
Earlier this month, Turkey withdrew its ambassadors to Washington and Stockholm after the U.S. House Foreign Affairs Committee and the Swedish parliament passed the nonbinding resolutions. Parliaments in several other countries have also recognized the killings as genocide in the past. One is Russia, whose Orthodox Patriarch Kirill
laid wreaths at Yerevan's Armenian Genocide Monument today
and delivered commemoration services in the victims' memory.
Armenia wants Turkey to recognize the killings of up to 1.5 million Armenians as an act of genocide and has campaigned for them to be recognized as such internationally. But successive Turkish governments have refused to do so. Turkey accepts that many Armenians were killed in 1915 during the war and the breakup of the Ottoman Empire but argues that many Turks were casualties, too.
It also argues that the death toll has been inflated and says there was no systematic attempt to exterminate the empire's largest remaining Christian community.
written by Antoine Blua with contributions from RFE/RL's Armenian Service and agency reports