U.S. Representative Gabrielle Giffords, who was shot in the head by a gunman in the southwestern state of Arizona, is responding well to treatment and can follow simple commands after surgery.
Doctors say it is still very early but that they are "cautiously optimistic" about Giffords' chances.
The 40-year-old Giffords, a Democratic member of the U.S. House of Representatives and an ally of President Barack Obama, was shot at close range on January 8 at a public meeting in a Tucson supermarket. She was holding a regular constituency meeting, known as "Congress On Your Corner," when she was shot.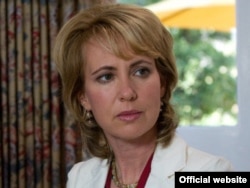 Gabrielle Giffords
The gunman killed six people. Among those killed were a 9-year-old girl and a federal judge. Thirteen people were wounded.
The attacker was overpowered by bystanders as he tried to make a getaway after running out of ammunition.
FBI Director Robert Mueller said the suspected gunman will be charged in a federal court.
A 22-year-old local resident, Jared Lee Loughner, was arrested at the scene.
U.S. President Barack Obama called the shooting a national tragedy.
"This is more than a tragedy for those involved. It is a tragedy for Arizona, and a tragedy for our entire country," he said. "What Americans do at times of tragedy is to come together and support each other."
News reports say Loughner had filled the Internet with angry and incoherent denunciations of the government. He is also said to have tried to enlist in the army but was rejected. A YouTube profile posted under Loughner's name lists Adolf Hitler's "Mein Kamp" and "The Communist Manifesto" by Karl Marx and Friedrich Engels as among his favorite books.
Pima County Sheriff Clarence Dupnik described the suspect as having a "troubled past" and said police are not convinced he acted alone.
Dupnik said there is no known motive for the shooting but added that Giffords -- a supporter of Obama's controversial health-care reform bill -- was the apparent target. He also condemned America's heated political rhetoric, saying it has a dangerous effect on "unbalanced" people.
"The 22-year-old individual does have a criminal background and there are reports that he was a Pima College student and that there had been some difficulties with him," Dupnik said. "But, again, I'd just like to say that when you look at unbalanced people, how they respond to the vitriol that comes out of certain mouths about tearing down the government -- the anger, the hatred, the bigotry that goes on in this country is getting to be outrageous. And, unfortunately, Arizona, I think, has become sort of the capital. We have become the mecca for prejudice and bigotry."
Giffords, a member of the Democrats' centrist Blue Dog Coalition -- barely survived a Tea Party challenge to unseat her in November's congressional elections.
Former Alaska Governor Sarah Palin, a conservative Republican, placed Giffords on a "hit list" of politicians she wanted removed from office in the election, targeting her and others under the images of what appeared to be a gun's crosshairs.
Palin expressed support for the victims of the shooting on her Facebook page.
German Foreign Minister Guido Westerwelle expressed his sympathy for Giffords' family, saying he is "shocked" by the incident.
Former Cuban leader Fidel Castro also denounced the attack.
Political shootings are rare in the United States, but Arizona is sharply divided politically and has recently been the scene of highly charged political debate.
compiled from agency reports