By RFE/RL
As antigovernment protests continue in Cairo, the United States has called on the Egyptian government to immediately withdraw its decades-old state of emergency that gives sweeping powers to security forces.
U.S. Vice President Joe Biden made the call in a telephone conversation with Egypt's newly appointed Vice President Omar Suleiman on February 8.
Biden also told Suleiman that police should stop beating and detaining journalists and activists, and appealed for a broader national dialogue with the opposition.
In the meantime, many antigovernment protesters are continuing to camp out in Cairo's Tahrir Square, a day after one of the largest demonstrations yet against Mubarak.
As many as 250,000 Egyptians filled the streets of Cairo on February 8 to call for Mubarak's resignation and -- for the first time since the demonstrations began on January 25 -- thousands of protesters marched on the Egyptian parliament to press their demands.
'Land Of Freedom'
Most of the protesters had gone home overnight, but several hundred remained on the square in makeshift shelters.
Mohammad Zoghbi, one of those who camped out, said today that the key demand of the demonstrators remains the same: Mubarak must resign immediately.
"I want Hosni Mubarak to leave us. We want to choose our leader, and we want freedom," he said. "All of us here want freedom. This is the land of freedom."
Among the crowd were government employees, including about 5,000 university professors and teachers, who earlier were blocked by security forces from joining the protests.
A group of more than 1,000 protesters broke away from the square and marched on parliament, several blocks away, chanting, "Illegitimate, Illegitimate," and demanding it be dissolved.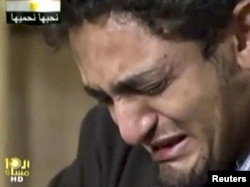 Google executive Wael Ghonim cries during an interview in Cairo.
The massive protest on February 8 was buoyed by enthusiasm surrounding the release of Wael Ghonim, the 30-year-old Google executive who was detained two weeks ago by the state for helping organize the first wave of protests. His release and appearance in Tahrir Square breathed new life into the opposition and provided a galvanizing central figure for people to rally around.
'Egypt Above All'
Following the
broadcast of an interview with an Egyptian satellite station
, Ghonim made a brief but emotionally charged appearance in the square to encourage the demonstrators to continue their demand for democratic change.
He told the crowd, "I'm not a hero, but those who were martyred are the heroes."
"This is not the time for individuals, or parties, or movements," Ghonim said. "It's a time for all of us to say just one thing: Egypt above all!"
Mubarak's appointment of a new cabinet, his pledge to not seek reelection when his term expires in September, and the new government's invitation to opposition groups to chart a path of reform has not mollified the antigovernment demonstrators, who say they will continue the protests until Mubarak himself resigns. The 82-year old leader has ruled the country for 30 years.
Huge crowds turned out all across the country. Tens of thousands marched in Alexandria, thousands turned out in Mansoura, and some 9,000 protesters gathered in the cities of Ismailia and Suez.
The return of mass protests in Cairo came after two days of relative normalcy, with shops and banks reopening and traffic returning to streets that had been blocked for the past two weeks by security checkpoints and crowds of demonstrators.
Meanwhile, Vice President Omar Suleiman offered new concessions to the opposition by appointing a panel of judges and scholars to recommend constitutional changes within a month. On February 6, a first round of talks between the government and opposition groups ended with the regime conceding little ground.
written by Farangis Najibullah and Heather Maher, with agency reports