A tall, radiant-skinned blonde bombshell whose charity events are graced by French celebrities, Uzbekistan's Lola Karimova-Tillyaeva is the very image of success -- provided her father stays out of the picture, RFE/RL's Uzbek Service reports.
The 33-year-old daughter of Uzbekistan's brutal authoritarian ruler Islam Karimov, Karimova-Tillyaeva recently filed suit against the independent French website Rue89.com over an article that allegedly identified her as the daughter of a dictator and characterized her charity work in France as an attempt to whitewash the reputation of Uzbekistan's repressive ruling regime.
Karimova-Tillyaeva charges that one of the articles written by Rue89.com reporter Augustin Scalbert about her charity work is defamatory. Scalbert says her lawyers are seeking 30,000 euros ($48,000) in moral damages.
Scalbert believes the case has more to do with the media situation in France than it does with the word "dictator," telling RFE/RL that Karimova-Tillyaeva "doesn't like the fact that we write about Uzbekistan in the right ways," let alone discussing the 2005 events in Andijon, when thousands of Uzbek protesters were massacred by government forces, as well as citing other instances of human rights abuse.
"The mainstream French press doesn't do that," Scalbert says, noting that the major French television station TF1 has vested commercial interests in Central Asia with French industrial group Bouygues -- a major stakeholder in the company -- invested heavily in Turkmenistan, another autocrat-run country with a poor human rights record.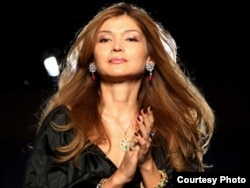 Is Lola competing with older sister Gulnara?
Gilles Lordet, a director of research at Paris-based press-freedom advocate Reporters Without Borders, was dismissive of the case, telling RFE/RL that Karimova-Tillyaeva was in for "a lot" of work "if she wants to sue all the newspapers that think that Karimov is a dictator."
Rumor has it that Karimova-Tillyaeva, Uzbekistan's ambassador to UNESCO in Paris, is competing with her glamorous older sister Gulnara Karimova, Uzbek ambassador to United Nations organizations in Geneva, for influence.
Both sisters are famous in Europe for their extravagant lifestyles, with Gulnara Karimova named one of the "World's Worst Daughters" by "Foreign Policy" magazine in 2009. She is currently one of the richest women in Switzerland and owns real estate worth tens of millions of dollars.
Is this little sister's attempt to play catch-up? Only if the Parisian court -- unfortunately for Karimova-Tillyaeva, it's one that specializes in freedom-of-speech issues -- decides to play ball. The trial starts on May 19.