WATCH: As Gulnara Karimova displayed her latest fashion designs inside, some two dozen activists gatherered outside to protest Uzbekistan's use of child labor to harvest cotton. The protesters chanted, "Hey Gulnara, do us a favor: Stop exploiting child labor!" (AP video)

By Courtney Rose Brooks

NEW YORK -- A group of about two dozen rights activists have protested Uzbekistan's use of child labor to harvest cotton by demonstrating in front of the New York fashion show of designer Gulnara Karimova, the daughter of Uzbekistan's long-standing dictator and a staunch proponent of the country's cotton industry.

As guests mingled inside Cipriani, a swank downtown restaurant favored by celebrities, the crowd chanted, "Hey Gulnara, do us a favor: Stop exploiting child labor!"
Authoritarian President Islam Karimov has ruled Uzbekistan since before the 1991 fall of the Soviet Union, and his government has long been accused of human rights transgressions, including the systemic torture and persecution of human rights activists.

"The Uzbek government tolerates no dissent," said Veronika Szente Goldston, Human Rights Watch's advocacy director for Europe and Central Asia. "President Karimov presides over a government that is one of the most oppressive in the world so he is responsible for that government's atrocious human rights record."

She said Karimova, as the ambassador to Spain and Uzbekistan's envoy to UN and other institutions in Geneva, is also complicit in human rights abuses.

"She has a role in that government's abuses, and particularly also in the continued denial and defiance that the Uzbek government exhibits at every opportunity when human rights concerns are being raised. She is part of that machinery that keeps denying and refuses to take responsibility," Goldston said.

Up to 2 million Uzbek children are forced to work for slave wages in Uzbekistan's cotton fields during the harvest season, according to International Labor Rights Forum campaign director Timothy Newman, who helped organize the protest.

Gulnara Karimova didn't let human rights protesters rain on her parade during New York fashion week. (file photo)
Yusuf Sabirov, who said he drove 40 hours from Arizona to take part in the protest, said he began working in the cotton fields when he was 8 years old and that his two children, who still live in Uzbekistan, started at the same age.

Sabirov said he was protesting Karimova's show because the people of Uzbekistan cannot defend themselves against the regime.

"My daughter is studying at the college, she is studying until noon; and after noon she is supposed to go pick...cotton. If she will not, they will make her leave college," he said.

He said that the children receive little compensation for their work, and during the week his daughter works in the fields after attending a few hours of classes in the morning. On the weekends, she works from early morning to sunset.

"One child can pick up -- if they work hard all day long -- he can pick up about 100 pounds of cotton," Sabirov said. "And the government pays 5 cents per pound. It will come to something like $5 for one day. And they are working for that money from sunrise until sunset, all day long. They get just a half hour for lunch, nothing else."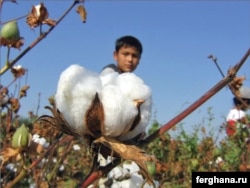 A child picking cotton in an Uzbek field.
IMG, the company that produces New York City's week of fashion runway shows -- known officially as Mercedes Benz Fashion Week -- canceled Karimova's show after Human Rights Watch (HRW) approached representatives with concerns about the designer's track record on human rights.

The International Labor Rights Forum had also said it would protest the show at Lincoln Center, where Fashion Week was held.

IMG said in a public statement that it was "horrified by the human-rights abuses in Uzbekistan."

So Karimova took her disgraced show to Cipriani, and her brand, Guli, released a statement claiming that moving the show was a joint decision made by itself and IMG due to "safety and security concerns."

"It was over human rights concerns that her show was canceled -- that they did not want to welcome her at the Fashion Week," Human Rights Watch's Szente Goldston said. "It's not surprising that she would undertake these sort of saving attempts, but certainly we are not fooled."

In just two days, 500 people signed an online petition posted by the International Labor Rights Forum protesting Cipriani's decision to host the event.

Around 200 people attended Karimova's show. An RFE/RL reporter was denied reentry to the venue after conducting several interviews during late morning "welcome cocktails."

According to a photographer who was inside, Karimova did not make an appearance.

Olga Papkovitch, a Russian artist who attended the show, said she thought that the protest was misplaced.

"If there is a controversy with the child labor then I think the issue should be addressed [at a] higher [level] than just having a demonstration outside the fashion show, because here people came to support the artist, the designer, and she's struggling," she said. "The issues, as far as politics and child labor, should be addressed in walls of more serious establishments than outside this venue."

But Bethany Riportella, a native of Los Angeles who works in commercial real estate, said she just came for the fashion. She said a friend told her "this was the show of the week and that it was the best and one of her favorites because of just everything from start to finish, from the design of the show, the runway, the patterns, the fabrics. She just said it's one of the most unique shows to see from the bottom up."

Several Western companies, including Tesco, Gap, Marks & Spencer, and Wal-Mart, have boycotted products which use Uzbek cotton. The Uzbek government issued a decree in September 2008 officially banning the use of child labor in the cotton industry but according to activists, the practice never stopped.

Cipriani representatives refused to comment on the venue's decision to host the show and IMG did not respond to a request for comment.

Sabirov, meanwhile, said Karimova should consider the message she's sending by holding her show.

"She's supposed to think about it -- what's she doing. It's not good to make fashion show and to show to people that in Uzbekistan everything is OK," he said. "It's not OK in Uzbekistan. Human rights are going down and getting worse day by day."