Japanese officials have issued new warnings over radioactive contamination as a fresh discharge of smoke at the stricken Fukushima Daiichi Nuclear Power Plant raised additional concerns.
Authorities warn that Toyko's tap water has radioactive iodine levels more than double the amount considered safe for infants and say the water should not be given to babies.
Meanwhile, black smoke was billowing from the building that houses Fukushima's plutonium-fueled No. 3 reactor, prompting another evacuation of workers who have been struggling to restore power to the facility's cooling systems and avert a wider nuclear disaster.
The evacuation and fresh warnings come amid acute concerns about radiation-contaminated food, water, and milk supplies from the area around the damaged nuclear plant, which is about 240 kilometer north of the capital, Tokyo.
Japan's Chief Cabinet Secretary Yukio Edano told reporters today that measures were being taken to prevent the sale of contaminated food.
"Unfortunately, we are expecting this situation to last longer than expected, so in order to prevent any possible damage from an early stage, we have put a ban on the shipping of radiation contaminated vegetables to reduce human contact to harmful substances," Edano said.

Some Power Back
The lights came back on in the control center of reactor No. 3 at Fukushima, hours after power cables were connected to all six reactors for the first time since the massive March 11 earthquake and tsunami.
Officials hope the development will speed up work to restore cooling systems vital for stabilizing the reactor.
Meanwhile, the UN's nuclear watchdog says radiation is still leaking from the quake-hit plant, but scientists are unsure of its origin.
Tokyo Electric Power Company officials have warned that considerable work must be done before electric power can safely be turned on so the plant's cooling systems can fully operate again.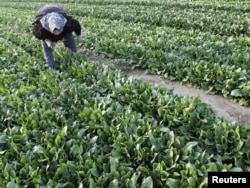 A farmer weeds a spinach field in Moriya, Ibaraki prefecture, on March 20. High radiation levels have been detected in vegetables in the area.
The number of people confirmed dead or listed as missing in Japan surpassed 24,000, 12 days after a massive earthquake and tsunami struck the country's northeast coast.
The National Police Agency said 9,408 people had been confirmed dead and 14,716 officially listed as missing -- a total of 24,124. A total of 2,746 people have been injured.
compiled from agency reports