Western leaders have been unsparing in their recent criticism of Muammar Qaddafi.
British Prime Minister David Cameron's comments about the Libyan leader at this week's Group of Eight (G8) meeting in Paris were fairly typical. "Every day, Qaddafi is brutalizing his own people," Cameron said. "There should be no let up in the pressure we put on this regime."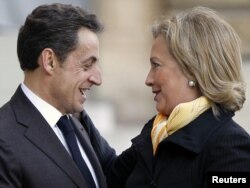 French President Nicolas Sarkozy (left) has taken the lead in recognizing Libya's rebels.No one yet has followed.
But despite the tough talk, only one Western country, France, so far has officially recognized the rebel leadership fighting against Qaddafi.
All the others have stopped short of taking that step, which could allow the rebels access to Libyan funds overseas, oil revenues, and arms deliveries.
Who Are The Rebels?
Throughout the Libyan crisis, much of the reason seemed to be how little the West actually knew about the rebel leadership. As recently as March 7, White House spokesman Jay Carney said it would be premature to "send a bunch of weapons to a post office box in eastern Libya."
Today, the identity of the rebels is better known. A rebel delegation met with U.S. Secretary of State Hillary Clinton on the sidelines of the G8 meeting and the Obama administration has appointed a diplomatic liaison to Libya's rebel groups. Similarly, the EU's foreign-affairs chief, Catherine Ashton, has announced she is sending a mission to rebel-held Benghazi.
But there still seems to be little to suggest that formal recognition of the rebels is in the offing or ever will be. And again the reason may be that too many questions undermine the West's confidence in them.
Shahshank Joshi, an associate fellow and regional expert at London's Royal United Services Institute, says the West knows some key figures in the upper echelons of the leadership. But, he says, "what we don't know are the fractures lying within the rebel movement. How are they divided? How do they interact with tribal divisions? And, particularly, do they disagree on military aims and a possible settlement?"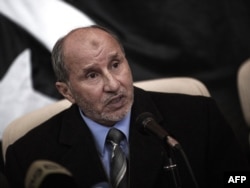 Former Justice Minister Mustafa Abdel-Jalil has emerged as the best-known leader of the anti-Qaddafi movement.
The best-known figure in the transitional council is its chairman, former Justice Minister Mustafa Abdel-Jalil. The London-based Arabic newspaper "Asharq al-Awsat" recently described him as famous in Libya for his past readiness to defend dissidents who challenged Qaddafi's regime.
Jalil resigned as justice minister on February 21, five days after the outbreak of Libya's revolution, saying he opposed the excessive use of force against the demonstrators. He then went on to form a transitional government based in the city of Benghazi comprising 30 civilian and military members to run the affairs in all liberated areas.
Where Are The Well-Known Liberals?
That defection seems enough to have secured Jalil and his Transitional Council a popular base in Benghazi, the rebels' remaining bastion of power. But for Western capitals, what the Libyan revolution seems to critically lack is a leader with internationally established liberal credentials.
"In Egypt," Joshi says, "we had figures like Mohamed ElBaradei, who for a considerable length of time had been campaigning against the government, who was a perceived liberal figure." And, he says, "it is those figures we lack in Libya."
Now, as Qaddafi's forces roll back the early rebel gains and approach the gates of Benghazi, some analysts believe it is too late to expect Western governments to reverse course and recognize the rebel leadership.
Jean-Pierre Darnis, the deputy head of the security and defense department at Rome's Institute of International Affairs, says that as recently as last week the West could have helped the insurgents militarily when they were on the winning side. "Now," he says, "they are losing, and if you help people who are losing it's useless. You go nowhere."
Pressure, Not Recognition
Most countries seem to be convinced that pressuring Qaddafi is a better strategy than backing the rebels. The pressure includes direct measures like sanctions and implied threats such as talk of no-fly zones.
As British Foreign Secretary William Hague said this week: "We want to increase the pressure on Qaddafi, tighten sanctions. There is common ground here in the G8, and while not every nation sees eye-to-eye on issues such as the no-fly zone, there is a common appetite to increase the pressure on Qaddafi."
That strategy might appear to risk running aground on Qaddafi's own strident defiance of any foreign pressure. But many analysts believe the real target for the pressure is not Qaddafi himself but his sons and other key figures around him.
Those people cannot be expected to defect from Qaddafi's inner circle as many of the rebel leaders did. But because they have economic interests tied to the West, the hope is they may yet exert a moderating influence as the crisis evolves.
One example, Joshi says, could be Qaddafi's son Saif, who has had one foot in the West for many years. "Saif and his senior commanders may wish to salvage something from the situation and that may be part of the reason why Western states are keeping a channel open to the Libyan government rather than severing those entirely," Joshi says.
Will that pressure be enough to save the rebel movement that day-by-day is losing ground to Qaddafi's forces?
The question is difficult to answer because it depends largely on how long a fight the rebels can put up in Benghazi. The only certainty is that applying outside pressure usually works best with time, and time now is in short supply.
RFE/RL Afghan Service correspondent Sultan Sarwar contributed to this report